ASIS Middle East 2015
February 15, 2015

-

February 17, 2015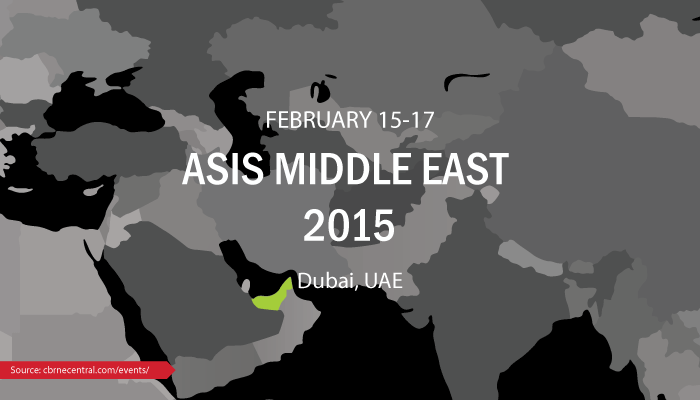 The ASIS 6th Middle East Security Conference & Exhibition will take place February 15-17, 2015 in Dubai, United Arab Emirates.
The conference will address a full spectrum of topics in security management and allow for networking with peers in security management from around the world.
Highlighted sessions include:
The Rise of the Jihadists – the Second Stage of the Arab Spring
New Operations – Entry and Exit Strategies
Counterterrorism Rewards Programs: Government and Private Sector—Information Sharing to Counter Growing Threats
Risk Assessment Methodology: Rationale for Use, Best Practices, Implementation and Benefits
Effective Staff Travel Safety Systems for Today's International Business
What's the Difference Between Crisis Management and Emergency Response?
The Sinking of an Oil Platform – a Crisis Management Event
Re-Thinking All Hazards Risk Assessments
Security without Borders
Soft Target Hardening: Protecting People from Attack
In Harm's Way: Building Successfully Integrated Travel Risk Management, Crisis Response and Evacuation Capabilities
Building a Robust Aviation Security Solution Whilst Maintaining a Seamless Passenger Journey
Education – the Forgotten Protective Security Measure for Critical National Infrastructure
Inside Information – Terrorist Use of Intelligence
Strategic Thinking about Operational Risk Management
Non-Standard Behaviour Detection: Risk from Insider
Detection, Delay and Response – Designing an Effective Physical Protection System
Preparing an Enterprise Security Plan Addressing Middle East Cyber Threats & Risks
Will Hotels Continue to be the Preferred Soft Target of the Future?
Blast Mitigation Measures – a Detailed Look at Products and Approaches to Protect Against Explosions
Supply Chain Security: "from Credo to Grave"
Holistic Physical Security Using Risk Analysis Methods
Global Screening: Close Security Gaps and Reduce Risks
Private Security in High Risk Environments
Please visit the ASIS 6th Middle East Security Conference & Exhibition website for more information and to register.