AAFS 2015 Forensic Sciences
February 16, 2015

-

February 21, 2015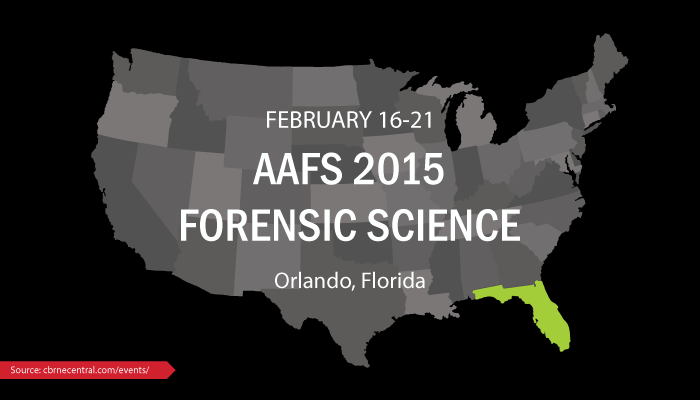 The AAFS 2015 annual meeting of the American Academy of Forensic Sciences will take place 16-21 February 2015 in Orlando, Florida.
This scientific meeting gathers together approximately 5,000 world-renowned professionals to present the most current information, research and updates in their fields.  More than 900 scientific papers, seminars, workshops and other special sessions are presented.  In addition, approximately 180 exhibitors will present to showcase the cutting-edge technology and services of this ever-changing profession.
Highlighted sessions include:
U.S. Army CID Criminalistics Committee
Mass Fatality Incidents: An Integrated Approach
Obtaining Successful DNA Profiles from Challenging Samples
Challenges in Fire Debris Analysis
Chemistry/Instrumental Analysis Scientific Area Committee Public Meeting
National Institute of Justice (NIJ) Innovation Showcase
Criminalistics
Digital and Multimedia Evidence
Interdisciplinary Forensic Science
Wildland Fires of Electrical Origin
American Board of Forensic Toxicology (ABFT) Examination Committee
RADid: Using Radiologic Technologies to Identify Unknown Decedents
Mental Health Support to Law Enforcement: Practical Issues
Clinical Toxicology of the Poisoned Patient
Quality Assurance in Human Identification
Scientific Neutrality in Expert Witness Testimony
Crime Scene Reconstruction of Nine Service Members Killed in Kabul
Please visit the AAFS 2015 website for more information and to register.