AMSUS Annual Meeting
December 2, 2014

-

December 5, 2014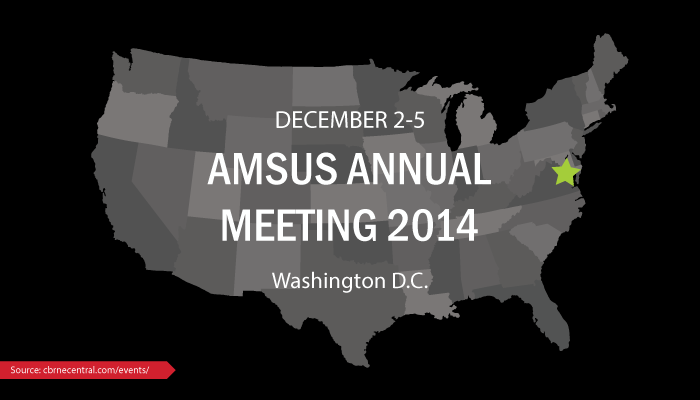 AMSUS 2014, the Annual Meeting of the Association of Military Surgeons of the United States, will be held  2-5 December 2014 in Washington D.C.
The meeting is the only one of its kind to bring federal healthcare professionals together, as well as international delegates. Throughout the event attendees have the ability to receive CEs from world renowned speakers, network across services both nationally and internationally, and view demonstrations of the latest technology in healthcare.
Highlighted topics include:
Battlefield Acupuncture
Global Health Trends and Threats
The Hajj: Medical Planning for a Global Event
Cooperative Bio-Risk Management: A New Paradigm for Global Health Engagement
Bilateral Complex Feet Injuries by Landmine
Application of Regenerative Medicine for Primary and Secondary Reconstruction
Electronic Surveillance System for the Early Notification of Community-based Epidemics (ESSENCE)
Out of Area Missions in Rabies Endemic Countries – Impact on Soldier Health
DoD Veterinary Service Global Health Engagement Strategy
Mefloquine and the U.S. Military
The Military Medical Ebola Virus Experience
Resuscitating Food Safety Inspections Through Technological Infusion
Pneumococcal Pneumonia in the Department of the Navy
Biomedical Research at DARPA: Innovating Beyond the Horizon
Supporting a 21st Century Medically Ready/Ready Medical Force
DoD Global Health Engagement: Ends, Means, Ways
Impact of HIV/AIDS in Militaries in Africa: Prevention Approaches
Disaster Preparedness Program: A New Model for Sustainable Capacity-Building
Effects of Blast Exposure on the Human Eye and Vision
The conference exhibit hall offers a variety of exhibitors comprised of VA hospitals, non-profit organizations medical device manufactures, mobile medical unites and pharmaceutical companies.  Membership in AMSUS is not required to attend the conference.
Please visit the AMSUS 2014 conference website for more information.