9th Annual Hazus User Conference
November 7, 2016

-

November 9, 2016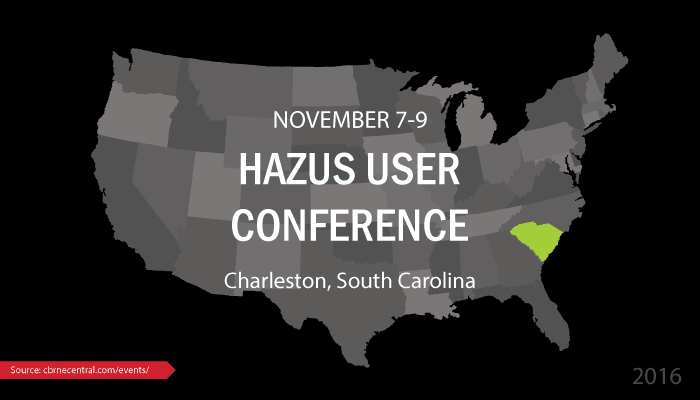 The 9th Annual Hazus User Conference is scheduled to take place November 7-9, 2016 in Charleston, SC.
This theme for this years event is "Achieving Disaster Resilience through Hazus Innovation." The annual event aims to bring Hazus users together to provide an information sharing platform for success stories, best practices, lessons learned, recent research, and workshops and discussions on Hazus topics of interest.
The event is being co-organized by the South Carolina Emergency Management Division and College of Charleston Lowcountry Hazards Center.
Agenda topics to include:
Visualizing Hazus Flood Analysis Results with Interactive Maps
Hazus and Risk MAP: The Latest Updates for Hazus Documentation and Risk MAP Standards and Guidance
A Watershed Moment in Hazus Innovation – Products & Applications
Improving Mitigation and Response Plans with User-Supplied Hazard Maps
Incentivizing Resilience: Moving from Risk Analysis to Impact
Please visit the 9th Annual Hazus User Conference website for registration and more information.