NCT CBRNE Asia & NCT Explosive Asia
November 8, 2016

-

November 10, 2016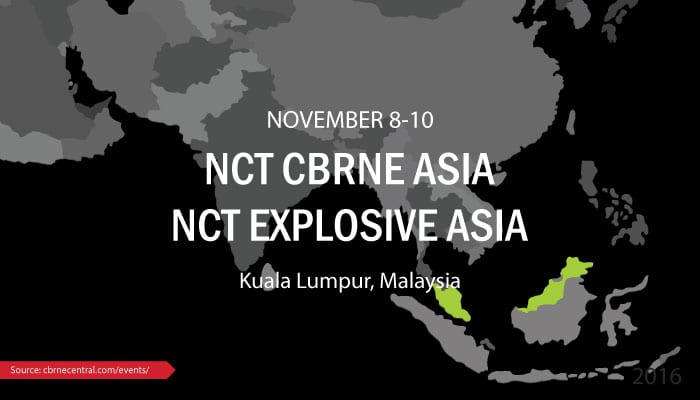 The NCT CBRNE Asia & NCT Explosive Asia Conferences will be held November 8-10, 2016 in Kuala Lumpur, Malaysia.
From the Non-Conventional Threat series of events, NCT Asia is the largest CBRN, EOD and demining conference in the region. The three-day event is organized in official partnership with the Malaysian Armed Forces (MAF) and the Science and Technology Research Institute for Defense (STRIDE).
A live demonstration followed by two days of exhibition and conferences offers the unique opportunity to identify common threats and enlarge the global CBRN and EOD/C-IED community.
Highlighted sessions include:
CBRNe Threats and Capability Building in Malaysia
IED Threats to Public Safety in Asia – Consequences for Critical Infrastructure Protection
Opening Plenary I: Civil and Military CBRN Capability Building in Southeast Asia
Training the Force – Enhancing Preparedness for CBRN Incidents
Detecting Explosive Devices: Lessons learned
Case Studies: Tackling the Landmine Problem in Southeast Asia
International Lessons Learned in CBRNe Defense and Response
Analysis and Response to Large Scale Biological Incidents
CBRNe Protection in Densely Populated Areas
Emerging CBRNe Threats and Solutions
International Cooperation in Countering the Evolving Bomb Threats
RN Disaster Management – From Prevention to Recovery
Defeat the Device – IED Threat Mitigation
Please visit IB Consultancy's NCT Asia 2016 website for more information and to register.