PITTCON 2016
March 6, 2016

-

March 10, 2016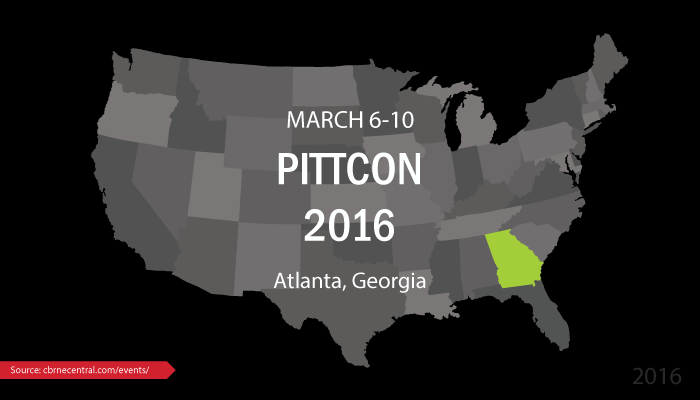 The PITTCON 2016 Conference and Expo, will be held March 6-10, 2016 in Atlanta, Georgia.
The event draws more than 16,000 attendees and features a robust technical program offering more than 2,000 technical presentations, 100 skill-building short courses, and a large exhibition.
Highlighted topics include:
Using Chemical Forensics for National Security and Intelligence Applications
Wearable and Point-of-Care Sensor Technologies for Biomonitoring
Emerging Mass Spectrometry-Based Techniques for Biomolecular Analysis
Lab-on-a-Chip Devices
Enabling Sample Preconcentration Methods for Bioanalysis
Electrical and Electrochemical Sensing and Detection Based on Nucleic Acid Recognition
Environmental Sampling and Sample Preparation
Ultrasensitive Bioanalysis on the Pico to Femtoliter Scales
Portable Instruments
Standoff Detection Methods for Security Applications
Innovative Application of Surface-Enhanced Raman Spectroscopy
Solventless Sample Preparation Prior to Mass Spectrometric Analysis
Analytical Applications of Terahertz Time Domain Spectroscopy (THz-TDS)
Environmental Sampling Statistics
Ambient Air Monitoring: What are the Right Tools for the Job?
Advancements in Raman Spectroscopy
Miniature Mass Spectrometers
On-Site Detection of THC and Related Drugs
Raman, SERS, UVRR Applications
Sensors – Bioanalytical and Homeland Security/Forensics
Technology Strategies for Explosive Sensing
Trace Explosives Detection
New Approaches to Nuclear Safeguards and Forensics Analysis
PITTCON is short for the Pittsburgh Conference on Analytical Chemistry and Applied Spectroscopy, made up of the Spectroscopy Society of Pittsburgh (SSP) and the Society for Analytical Chemists of Pittsburgh (SACP). Both societies are non-profit organizations dedicated to furthering science.
Please visit the PITTCON 2016 website for more information and to register.