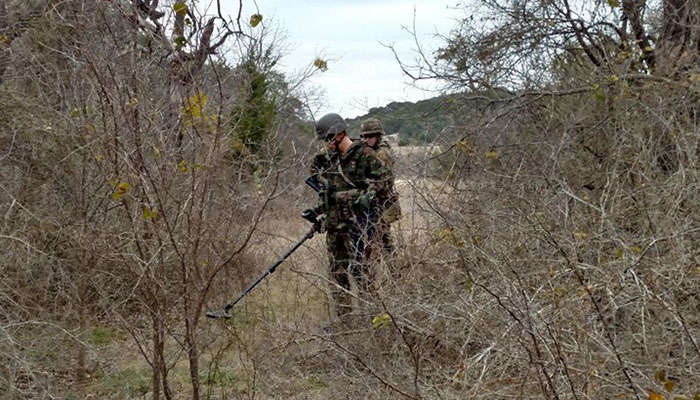 U.S. Army Explosive Ordnance Disposal (EOD) soldiers from the 71st Ordnance Group (EOD) were hard at work last month, conducting training with U.S. federal and local partners, joint training with international counterparts, and a participating in a special Boy Scout community event.
Fort Bliss Mass Casualty Exercise
The 741st Ordnance Company (EOD) participated in a Mass Casualty Exercise at Fort Bliss, Texas, on Jan. 13, validating EOD integration and response procedures with local and federal law enforcement agencies.
Working with the Fort Bliss Department of Emergency Services (DES), FBI, Military Police and Border Police, the 741st main task was to support DES in clearing multiple "suspect packages" from a designated mass casualty area. They also assisted the FBI's special agent bomb technicians on the safe rendering of another IED.
"It's a tremendous training opportunity for 741st EOD to work alongside the Fort Bliss Fire Department Crash, Fire, Rescue Team running a coordinated emergency response to provide support to civil authorities," said 2nd Lt. Patrick Lawrence, EOD Platoon Leader, 741st EOD Company.
Royal Netherlands Army Engineers Joint Training
On Jan. 20 a team from the 47th Ordnance Company (Explosive Ordnance Disposal (EOD), 79th Ordnance Battalion (EOD) conducted joint training with the Royal Netherlands Army Engineers in Fort Hood, Texas.
Before they conducted hands-on training which included Handheld Detector Training, Route Clearance Operations and Ground Sign Awareness both groups gave presentations in the classroom.
Boy Scouts Demonstration
Finally, the 630th Ordnance Company (Explosive Ordnance Disposal) performed a demonstration for Special Agent Bomb Technician John Tucker and his Boy Scouts of America Troop 122 at Camp Funston Monument in Fort Riley, Kan., Jan. 16.
During the demonstration, members from the 630th, who some of them are former local scouts, provided Troop 122 with an overview of the duties and responsibilities of an EOD Soldier, and the opportunity to interact with Talon and PackBot Tactical Robots. The scouts also tried on EOD suits and glanced at the Joint Explosive Ordnance Disposal Emergency Response Vehicle.
The 71st Explosive Ordnance Disposal Group maintains an around-the-clock Chemical, Biological, Radiological, Nuclear and Explosive emergency response capability across nine installations and 20 states in the western United States in support of local, state, regional and Federal law enforcement agencies.
Article adapted from original report by Maj. Ryan Donald, 20th CBRNE Command