To ensure critical military equipment works when needed, Dugway Proving Ground (DPG) is upgrading its facilities used to test technology and equipment in adverse environments.
Dugway's mission includes testing detectors, decontamination systems and protective clothing against chemical, biological, radiological and explosives (CBRNE) hazards. That mission includes testing items that produce smoke and obscurants which are used to hide movement or materiel from enemy detection.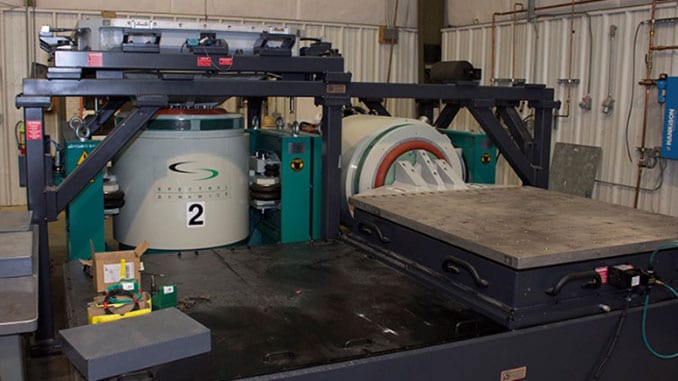 Items like smoke and obscurants may be stored for months or years before needed, emphasizing how important proper environmental testing is.
Having the upgraded facilities is important for DPG to help ensure all equipment and systems meet Military Standard 810G, which governs all climatic and dynamic testing of items.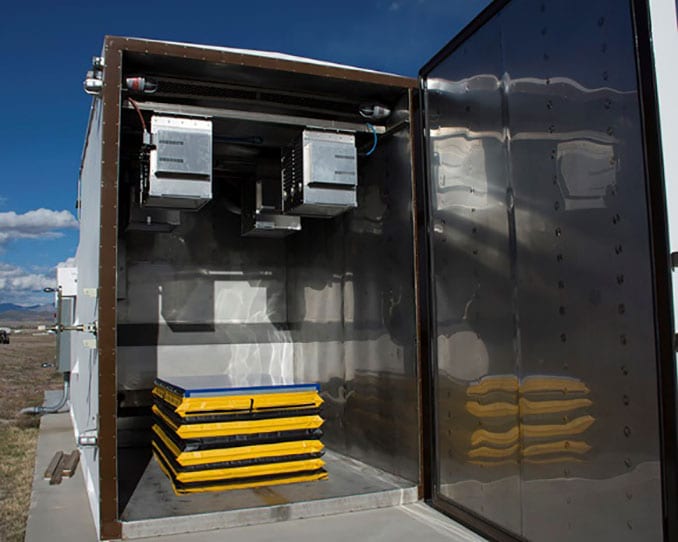 Upgraded testing systems ready for use include:
A new $1.4 million shaker system for vibration testing will challenge items with greater force, replicating the effects of long-term transport in a bouncing vehicle, ship or aircraft. Two shaker heads have been installed, replacing the vintage single shaker head, giving the option of a single head for small items to save energy and money, or both shaker heads for a large item. Only Dugway and NASA in Houston have this type of vibration system capability, Barnett said.
A new $700,000 solar radiation chamber can replicate long-time sunlight while mimicking varying intensity over a day, with temperature and humidity extremes, as found on a structure, ship or vehicle. Such testing determines if markings fade, plastic frosts or is made brittle, etc.
A new $1.3 million blowing dust chamber replicates conditions found in dry, arid conditions to help determine the longevity of markings, and how well an item will function after a steady bath of fine dust. A future $750,000 upgrade is sought to blow sand, making the chamber the only one of its kind in Army Test and Evaluation Command, Barnett noted.
A new $50,000 portable high-speed wind machine can be used outdoors to replicate pelting rain or blowing sand, and is essentially the same as used on airboats, powered by a 500 horsepower engine. Wind speeds up to 120 mph are possible.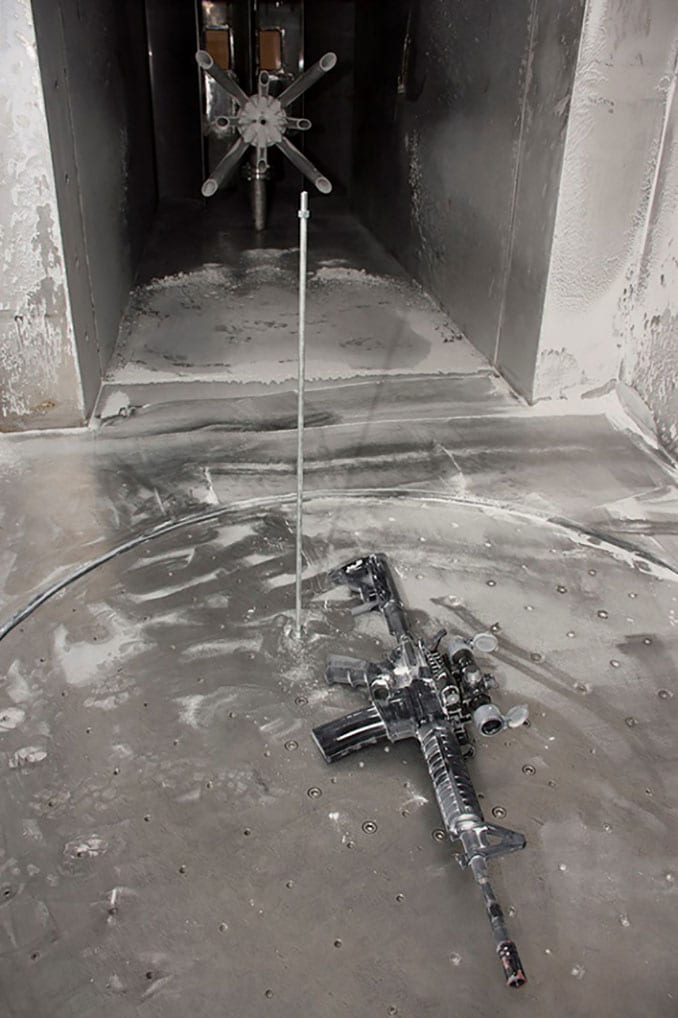 Testing chamber systems with planned upgrades include:
The fungus chamber, dating to the 1980s, will be refurbished to replicate conditions found in humid, warm climates. Such conditions can damage electronics, rot fabrics, obscure markings or affect pyrotechnics. A contract has been awarded, with completion expected spring 2017.
Operational Environmental Chamber specifications are being drafted. The chamber — 12 feet wide, 9 feet high and 15 feet deep – will have fixed lights and cameras with outside manipulation, allowing personnel to operate items in replicated environments. Construction of the chamber is expected in 2018.
High Altitude Chamber specifications are being drafted, to replace the current aging analog control system with a new digital system.
Jim Barnett, chief of the Physical & Environmental Branch of the Test Support Division, has successfully worked with colleage Brent Sigvardt for years to obtain funding for the infrastructure updates. "These will bring Dugway's military standard 810G into the 21st century," Barnett said.