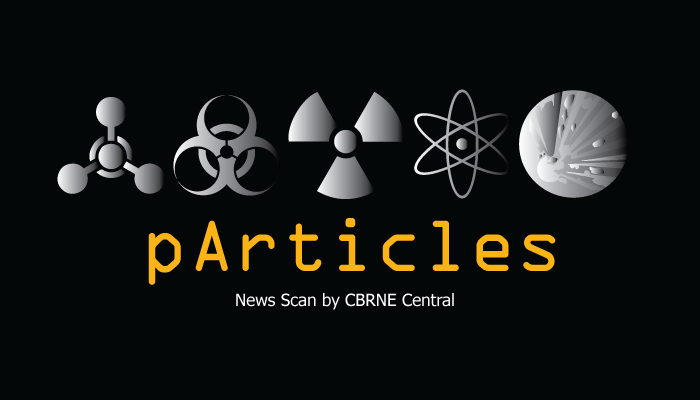 Topics in this issue include the Standoff Suicide Bomber Detection System, Paris terrorism crisis response analysis, CBRNE Defense Act of 2015, and the First Responder's Passport Act.
Explosives, EOD & C-IED
This Tool Could Sniff Out a Paris Bomb More Than a Football Field Away
The U.S. military is working to refine and improve a multi-sensor device that could one day deploy to detect suicide vests. The new experimental set of sensors is dubbed the Standoff Suicide Bomber Detection System, or SSBDS, Developed by the Joint Improvised-Threat Defeat Agency, or JIDA, it's already seen action; in 2012, the Defense Department took an early version to Afghanistan. Defense One >>
Growing Terrorist Threat Requires New U.S. Investments in Counter-IED Capabilities'
The post-Iraq/Afghanistan military didn't see the need nor did it have the funds to invest in advanced counter-IED capabilities. JIEDDO was initially downsized and renamed the Joint IED Defeat Agency (JIDA), and there is an effort underway by some in Congress to bury the new organization within some larger entity. Looks like the Pentagon, the military and JIDA opponents in Congress were all wrong. Lexington Institute >>
Federal Contracting
PSC Says DHS Request Could Eliminate Competition
The Professional Services Council is concerned that a proposed Department of Homeland Security research and development center could eliminate contractor competition. The RFP for the establishment of the Federally Funded Research and Development Center debuted on Sept. 14, calling for an Indefinite-Delivery, Indefinite-Quantity contract to operate the Homeland Security Operational Analysis Center, meant to be a replacement for the Homeland Security Studies and Analysis Institute. Federal Times >>
The Pitfalls of Changing a Pending Proposal
As acquisition timelines become increasingly protracted, contractors face the thorny question of if, when and how to advise a procuring agency of changes affecting an already submitted proposal.   National Defense Magazine >>
Nuclear Energy
Opinion: The New Atomic Age We Need
"The single most important action we can take is thawing a nuclear energy policy that keeps our technology frozen in time. If we are serious about replacing fossil fuels, we are going to need nuclear power, so the choice is stark: We can keep on merely talking about a carbon-free world, or we can go ahead and create one." NY Times >>
EU Launches State Aid Probe Into Hungarian Nuclear Reactors
The European Union said Monday it has opened a probe to establish whether Hungary's financing of two new nuclear reactors constitutes illegal state aid. The EU's antitrust watchdog is trying to work out whether a private investor would have financed the building of the reactors in the city of Paks the same way as the government. Chem.info >>
UK Sets Aside Funds for 'Ambitious' Nuclear Research and Development Program
The UK will invest at least £250 million ($377 million) over the next five years in an "ambitious" nuclear research and development program. British Chancellor George Osborne's 'Comprehensive Spending Review' says this program will "revive the UK's nuclear expertise" and position the country as "a global leader in innovative nuclear technologies". World Nuclear News >>
Emergency Management
Emergency Response to Paris Attacks Worked, Doctors Say
The attacks left 129 dead and over 300 injured. No simulation could have prepared medical professionals for that kind of carnage — in fact, when the attacks began, some doctors thought it was another drill. But even so, the response was remarkable. Doctors and nurses spontaneously appeared at hospitals to help, and the extra personnel meant that at a single medical center, six operating rooms were performing surgeries at once. The operations continued all night and into the next day. STAT >>
Research & Development
Sandia Now Lets Researchers Offer Consulting to Licensees
In a boost to technology transfer, Sandia National Laboratories has launched a program that lets researchers consult for companies that license their Sandia work.  The availability of consulting should lead to more licensing as businesses learn they can get follow-up technical help from Sandia. FLC Newslink >>
Nuclear Security & Nonproliferation
Russian Unmanned Underwater Nuclear Weapon Raising the Stakes in Global Balance of Power
The technological means of delivering, deterring, and defending against nuclear weapons has been reasonably stable for more than half a century. Since the 1940s nuclear warheads have been based on bomber aircraft, long-range missiles, and specialized artillery. Military & Aerospace Electronics >>
Radioactive in Riga: The Latvian Nuclear Standoff of 2018
The purpose of this scenario, which stretches over three years, is to gauge potential future developments in NATO-Russia relations. While it is a work of fiction, and thus largely speculative, it is nevertheless grounded in a close study of Russia's geopolitical mindset, and of its recent strategic behavior. War on the Rocks >>
Iran Removes Centrifuges from Enrichment Plants
Iran has removed numerous centrifuges and related infrastructure from its uranium enrichment plants at Natanz and Fordow since adopting the Joint Comprehensive Plan of Action (JCPOA) in October, according to the International Atomic Energy Agency's (IAEA) latest safeguards report. World Nuclear News >>
IAEA Publishes New Emergency Preparedness Standards
New safety requirements on nuclear emergency preparedness and response published by the International Atomic Energy Agency (IAEA) incorporate lessons learned and developments since 2002, including lessons from Fukushima. World Nuclear News >>
Counter-Terrorism
Let's Talk About Terrorism and Migration
Whether potential terrorists mingle in transit with individuals seeking asylum has clear border security implications, but has no bearing on their legal recognition of political protection. Of 784,000 refugees we've welcomed in since 9/11, only three have been arrested for terrorism charges. War on the Rocks >>
French Agency Asks Academics to Shed Light on Paris Attacks
The French National Center for Scientific Research (CNRS) has asked academics for proposals to help understand and prevent the type of violence that left 130 dead in Paris on 13 November and profoundly shocked the country. The call came in a letter from Alain Fuchs, the president of the flagship agency, who described it as "a rare opportunity for researchers to express a form of solidarity with all those who, directly or indirectly, have been affected by the terrible events which, as we all know, can happen again." Science Insider >>
Is There a Method to ISIS's Madness?
The attack on France may very well prove to be ISIS's first obvious, huge mistake, at least from a caliphate-building perspective. That said, while many outside observers might think ISIS made a major miscalculation, the group—or whatever part of it directed the attack—probably doesn't agree. Otherwise, why would they have done it? Brookings >>
Tunisia Declares State of Emergency After Deadly Bus Attack
Tunisian President Beji Caid Essebsi declared a state of emergency on Tuesday after an explosion struck a bus carrying members of the presidential guard in the country's capital, killing at least 12 people and injuring more than a dozen others. Al Jazeera >>
START Team Assesses Insider Threat for International Air Cargo
Researchers conducted an extensive literature review on the air cargo industry and insider behavior and psychology, interviewed 17 subject matter experts in allied fields and conducted a week-long observational case study at Cargo City Bogotá-El Dorado International Airport in Colombia. START >>
Mass-Fatality, Coordinated Attacks Worldwide, and Terrorism in France
To provide contextual information on coordinated, mass-fatality attacks, as well as terrorism in France and the attack patterns of ISIL, START has compiled the following information from the Global Terrorism Database (GTD). START >>
The Facts About Terrorism
If you have a sense that the problem is growing, you're right. Last year, the number of people killed by terrorist attacks rose by about eighty per cent, reaching an all-time high of close to thirty-three thousand. Thanks largely to the deadly activities of the Islamic State of Iraq and al-Sham and of Boko Haram, the Islamist extremist group based in northeastern Nigeria, the number of civilians killed in terrorist attacks jumped a hundred and seventy-two per cent in 2014, to more than fifteen thousand. New Yorker >>
Government & Legislation
H.R. 3750, First Responders Passport Act of 2015
For the past few years, the U.S. Agency for International Development (USAID) has contracted with search and rescue teams in Fairfax County, Virginia, and Los Angeles County, California, to assist with its response to international disasters such as the earthquake in Nepal earlier this year. This bill would waive passport fees for disaster response teams that assist in international relief efforts. Congressional Budget Office >>
What Will the CBRNE Defense Act of 2015 Cost?
The Congressional Budget Office today published a cost estimate for H.R. 3875, which would establish the Chemical, Biological, Radiological, Nuclear, and Explosives Office in the Department of Homeland Security (DHS), consisting of existing offices in DHS. Global Biodefense >>
Chemical Safety Board Moves to Fire Two Top Staff
Turmoil at the Chemical Safety & Hazard Investigation Board continues as CSB is poised to fire its top two staff members who have been on paid leave since June. In a Nov. 16 letter, CSB member Kristen Kulinowski, a chemist, recommends terminating Daniel Horowitz, CSB managing director. His firing is called for because of misconduct and "conduct unbecoming a federal employee," she writes in the letter to Horowitz, citing allegations made by CSB employees. Chemical & Engineering News >>
Blair and Bush Went to War in Iraq Despite South Africa's WMD Assurances, Book States
Tony Blair went to war in Iraq despite a report by South African experts with unique knowledge of the country that showed it did not possess weapons of mass destruction, according to a book published on Sunday. The claim was this week supported by Mbeki's office, which confirmed that he pleaded with both leaders to heed the WMD experts and even offered to become their intermediary with Saddam in a bid to maintain peace. The Guardian >>
Russia Resumes Nuclear Trade with Iran as Sanctions Lifted
Russia will resume exporting nuclear technology to Iran, President Vladimir Putin has decreed on a visit to Tehran. The move follows Iran's agreement to international curbs on its nuclear program. UN sanctions against Iran are to be lifted in exchange for that agreement, under a deal signed in July. BBC News >>
Detection Technologies
Bruker Delivers Major Contract for Chemical and Radiological Detection Systems
Bruker today announced that it has delivered a major contract comprising Chemical and Radiological Detection Systems to Saab, Sweden. These Bruker detection systems form an integral part of the Saab Automatic Warning and Reporting (AWR) system that has been delivered to a client in Kuwait. CBRNe Portal >>
I/ITSEC 2015: Argon in its Element
On the Saab stand, Argon will feature the JCAD-SIM and the AP4C-SIM, the latter simulates the French Proengin handheld chemical detectors. The simulator is able to mimic the detectors real-life ability to help differentiate false positives when used with different detector technology. Shepard Media >>
World's First Handheld MS Wins Three Awards
The M908 handheld mass spectrometer from US company 908 Devices has won three prestigious industry awards honoring innovation and technological prowess. It has received the NCT CBRNe Product Award from IB Consultancy, named as one of the top 100 Analytical and Test products in R&D Magazine's R&D 100 awards, and was recently recognized by Homeland Security Awards by Government Security Magazine. Spectroscopy Now >>
Radioactive Waste
Nuclear Waste Storage Sites in Rock Salt May Be More Vulnerable Than Previously Thought
New research shows that rock salt, used by Germany and the United States as a subsurface container for radioactive waste, might not be as impermeable as thought or as capable of isolating nuclear waste from groundwater in the event that a capsule or storage vessel failed. Phys.org >>
Uranium Mine Remediation Project Moves to Next Phase
The second phase of a large-scale project to remediate the former Gunnar uranium mine in Saskatchewan can go ahead after Canadian nuclear regulators decided to allow the Saskatchewan Research Council (SRC) to proceed with tailings remediation. World Nuclear News >>
Biological Defense & Health Security
The Bioweapons Convention: A New Approach
When it comes to nonproliferation efforts, tacit knowledge poses a threat if it matures in the wrong places, such as illicit bioweapons programs; however, it can also act as a bulwark against the replication of dangerous technologies outside their native programs—something that international monitors do not always take into account when assessing threats. Bulletin of the Atomic Scientists >>
Border & Port Security
Metal Shark Delivers Multipurpose Port Security Vessel
Jeanerette, LA-based shipbuilder Metal Shark has delivered a 55 ft multipurpose port security vessel to the Plaquemines Port Harbor and Terminal District in Louisiana. Based on Metal Shark's Defiant-class monohull pilothouse design, the welded aluminum vessel is designed to support port security efforts and firefighting missions at the port district, located 20 miles south of New Orleans at the mouth of the Mississippi River. Marine Log >>
Homeland Security
In Wake of Paris, How Prepared Are U.S. States, Cities?
After the Islamic State attacks, Tuscaloosa Mayor Walter Maddox took note of the Parisian security staff that prevented a suicide bomber from entering the French national soccer stadium. His thoughts turned to Bryant-Denny Stadium — where more than 100,000 people gather for University of Alabama football games. Emergency Management >>
IBC Threat Assessment November 2015
New reports on Da'esh chemical capabilities trigger warnings of a chemical attack in Europe; The global response of outbreaks to global diseases needs to be adapted to be able to deal more effectively with the increasing risk of existing and newly emerging pathogens; Adverse effects of radiation exposure from Fukushima may be worse than generally assumed. CBRNe Portal >>
Chemical Threats
What If ISIS Launches a Chemical Attack in Europe?
As Europe debates how to deal with Isis in the aftermath of the Paris attacks, Isis is reveling in what it considers success, and is undoubtedly planning the next assault. Only that the next strike may be just as Isis vows: more lethal, even more shocking, it may just be one where the internationally banned abhorrent weapons of mass destruction are used. The Guardian >>