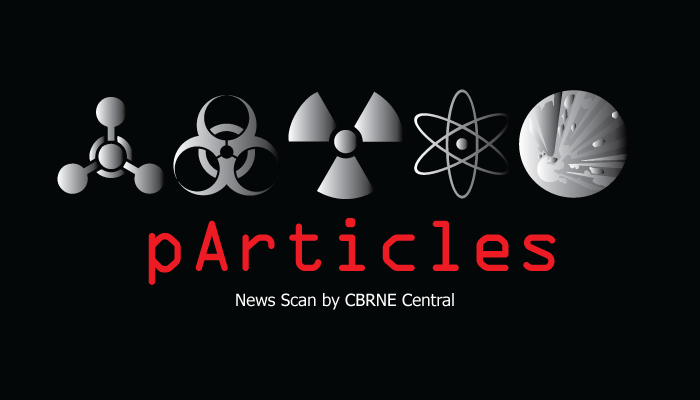 Topics in this issue include CBRN mask fit testing; measuring radiation; CBARR mission support; DoD vaccine development; and the nuclear materials black market.
Why I Fear the Dirty Bomb and You Should Too
"It is hard to imagine a more terrifying prospect than an extremist group like ISIS armed with nuclear or radiological weapons." I wrote that statement just a few weeks ago in a blog post for The Huffington Post after an Associated Press investigation revealed that nuclear materials smugglers have been trying to sell highly radioactive compounds to the Islamic State for use in a radiological weapon or "dirty bomb." It seems like a fairly obvious assessment to me. War on the Rocks >>
Worst Case Scenario: Avoiding an Explosion on an Extremely Cold Day
The scenario: You're an operator of a batch reactor. Outside, where the feed-tanks are located, temperatures have dropped to an extreme, once-in-a-decade low. Inside, you're ready to add a catalyst to your batch. You hit the button, and the catalyst goes into the batch – but nothing happens. You think it's odd, but most likely, the reaction is happening slowly because this catalyst does not get used a lot, and it might be old. So, you hit the button again… Chem.info >>
CBRN Mask Leakage Test System Contract Award
The U.S. Department of Defense has announced intentions to award a contract to Air Techniques International, Inc. for logistics support and maintenance of the Joint Services Mask Leakage Tester (JSMLT), a portable device capable of determining serviceability, proper fit and identifying defective components of Chemical, Biological, Radiological and Nuclear (CBRN) protective masks. Global Biodefense >>
Arktis to Help DOE Solve Spent Nuclear Fuel Storage Issues
Arktis prototype will non-intrusively check Dry Casks, used to store high-level radioactive waste at fuel storage installations, in order to monitor their contents. Arktis will collaborate on the new research and development project with the University of Florida (UFL). CBRNe World >>
Measuring Radiation: Improved Models Help Correct Assessment
Measuring the level of radioactivity during the routine discharges of radionuclides in the environment is a prerequisite for the assessment and evaluation of radiological impacts. Participants at an IAEA Modelling and Data for Radiological Impact Assessment (MODARIA) workshop this week compared and evaluated methods to estimate the impact of radionuclide exposures on people and the environment. IAEA >>
Last Chemical Weapons Production Facility to be Destroyed by End of 2015
The last chemical weapons production facility in Syria is to be destroyed by the end of 2015, said Kim Won-soo, U.N. Under Secretary-General and Acting High Representative for Disarmament Affairs. Won-soo attended a closed-door meeting of the U.N. Security Council Tuesday. He said after the meeting that the 12th hangar, the last one in Syria, was being prepared to be destroyed. The 11th facility has already been destroyed. International Business Times >>
Chemical Biological Applications and Risk Reduction Mission Support
The U.S. Army's Chemical Biological Applications and Risk Reduction (CBARR) unit of Edgewood Chemical Biological Center (ECBC) has issued a draft mission support contract solicitation for operations, research and technology, and program and integration support. Global Biodefense >>
The Fuel for a Nuclear Bomb Is in the Hands of an Unknown Black Marketeer from Russia
The sample of highly-enriched uranium, of a type that could be used in a nuclear bomb, arrived here on a rainy summer day four years ago, in a blue shopping bag carried by a former policeman. Center for Public Integrity >>
Is Bombproofing Airliners Technically Feasible?
As Egyptian investigators come closer to acknowledging the possibility that an on-board bomb took down the Metrojet Airbus A-321 that crashed on the Sinai Peninsula on Oct. 31, killing all 224 persons on board, the question I'm being asked repeatedly is, "can an airline cargo hold be made bombproof?" In Homeland Security >>
New National Park Marks Development of Nuclear Bomb
More than 70 years ago scientists working in secret created the atomic bomb that ended World War II and ushered the world into the nuclear age. On Tuesday, Interior Secretary Sally Jewell and Energy Secretary Ernest Moniz formally established the Manhattan Project National Historical Park, as they sat in a federal building near the White House where plans for the bomb were developed. Chem.info >>
Russia Says Leak of Secret Nuclear Weapon Design Was an Accident
The Kremlin's chief spokesman has confirmed that a report broadcast on Russian television this week revealed the design of a secret nuclear weapon delivery system: a drone submarine that could attack coastlines. NY Times >>
Cooperative Biological Engagement S&T Partnerships
A new DTRA contract seeks to build a long-term partnership between research and technical centers and CBEP partner country institutions for basic and translational research. The overall aim of the effort is to reduce the potential impact of biological threats through enhanced biological safety and security, awareness of biological risks, and knowledge related to biological pathogens. Global Biodefense >>
World's First Pocket Spectrometer Lets You Measure the Molecular Makeup of Nearly Anything
SCiO is a new gadget that instantly measures the molecular fingerprint of just about anything you see, and it fits in your pocket. Want to know the alcohol content of that beer you're about to slurp down or how many grams of sugar are in your apple? This mini spectrometer will tell you. Equipped with some of the capabilities of large, heavy laboratory spectrometers, but built around the kind of optics used in cell phone cameras, the SCiO measures the light reflected off any given object, breaks down its spectrum, and then sends that information to the cloud. Inhabitat >>
Russia: We Didn't Mean to Show Everyone Our Massive New Nuclear Torpedo
Two Russian state-run TV stations aired an image of plans for a long-range nuclear torpedo while showing a meeting between president Vladimir Putin and military generals in Sochi. According to Putin's spokesman, the image, containing "secret data," should not have appeared in the media, and TV stations are deleting the footage from their websites. Defense One >>
Kremlin: Leaked Video of Plans for Nuclear Torpedo Should Never Have Aired
The airing of the video on television channels under tight Kremlin control raised suspicions that it was done intentionally to scare the West at a time when its ties with Russia are at the lowest point since the Cold War. CBS News >>
Pitt Vaccine Scientists Awarded 7.6M Defense Contract
The U.S. Department of Defense (DOD) has awarded a $7.6 million grant to a collaborative group of scientists in the University of Pittsburgh Center for Vaccine Research (CVR) for groundbreaking work that could lead to countermeasures against bioterrorism attacks. Global Biodefense >>