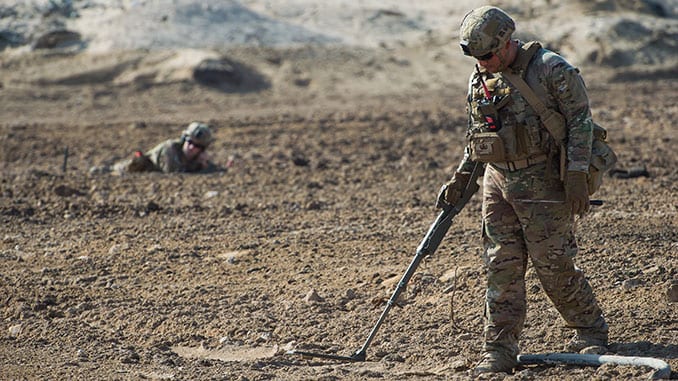 The 380th Explosive Ordnance Disposal flight, Expeditionary Security Forces Squadron military working dogs, and Expeditionary Civil Engineering Squadron Fire Response Services recently conducted joint training at an undisclosed location in Southwest Asia.
In a deployed environment changeover occurs more frequently than at permanent duty stations. Deployed commanders counter the effects of the changeover through training events like these.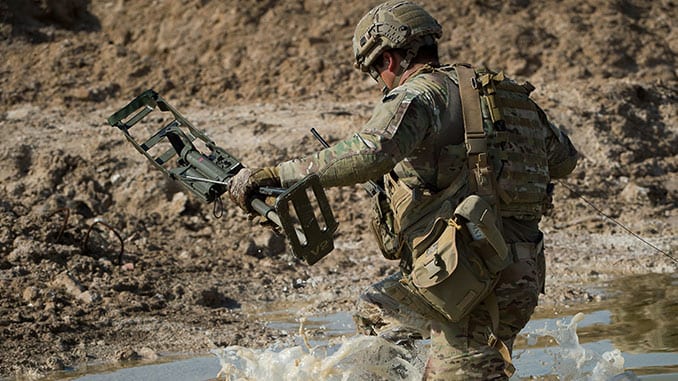 "An emergency response should not be the first time you work together," said Capt. Cory, 380th EOD flight commander. "As we continue to work together, our capabilities will only continue to improve."
The training started with a disabled vehicle and EOD setting it up with a large quantity of explosive materials that were without the components to achieve an actual detonation.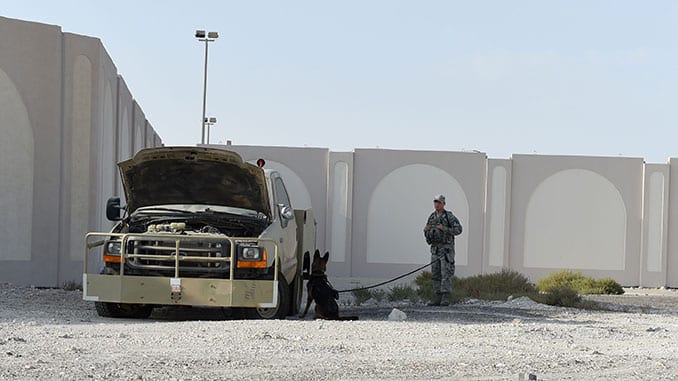 Once everything was in place, the call was made to simulate a patrol coming across an abandoned vehicle outside the base. This was the cue for 380th ESFS to send out working dogs with their handlers to inspect the vehicle.
"The most important aspect of this mass odor training is the ability to practice what we might encounter in the field," said Staff Sgt. Nicholas, 380th ESFS military working dog NCOIC.
Military working dogs are typically trained using small amounts of explosives. Scenarios like this help to expand the dogs' experience, making the dogs more confident and helping handlers understand how their dog will respond to different quantities.
After several working dogs responded, a call was made to initiate the second phase of the training. The 380th ECES fire department responded to the call of suspected explosives to establish safe distances and scene control.
"This was a great opportunity to communicate with the agencies involved," said Cory. "We are able to better understand how each other operate, along with limitations and expectations that each entity has for each other."
With safe distances established, an EOD response team arrived to inspect the suspect vehicle. A remotely controlled robot was used to inspect the vehicle, remove and dismantle the training explosives – all from a safe distance.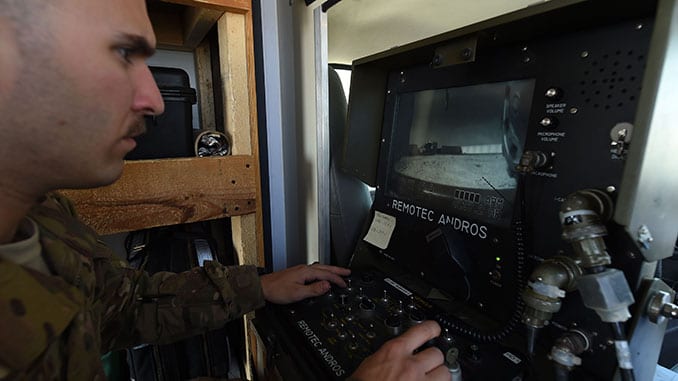 "We were able to take a problem and work it cradle to grave, including all aspects of the response, from identification of a hazard all the way to scene control and mitigation," said Cory. "As Air Force EOD, our primary mission is to provide airfield emergency support in order to support sortie generation."
Article adapted from original by TSgt Christopher Carwile, 380th Air Expeditionary Wing Public Affairs