Wildland Urban Interface 2017
March 18, 2017

-

March 23, 2017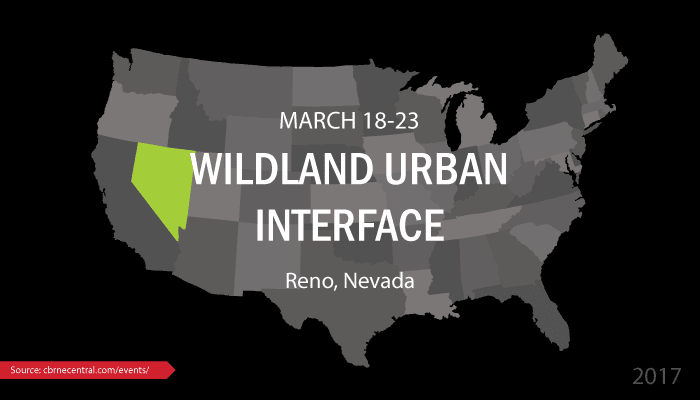 The Wildland Urban Interface (WUI) Conference and Exhibition will take place March 21-23 in Reno, Nevada, with pre-conference educational sessions available March 18-21.
The WUI conference brings together wildland firefighters, federal and state-agency personnel, and land-use community planners to collaborate on emerging issues in wildland fire management.
Highlighted session topics include:
Wildland Fire Data Exchange
Wildfire in the Canadian Oil Sands and the Impact to Ft. McMurray
What a Presidential Transition Means to the Wildland Fire Community
Community Planning Assistance for Wildfire
Rapid Extrication Module (REM) – A Case Study from 2016
Leadership Sandtable/SimmTable – Lessons from Type I ICs
Cardiovascular Disease Health and Fitness Status in Firefighters: A Call to Act
Fire Operations in the Swamp
Fire Learning Exchanges in the PNW – What We Learned You Can Too
Firefighter Safety Through Advanced Research (FSTAR)
San Diego Risk Determination through Partnerships
Business Outreach and Mitigation, Before, During and After a Wildfire
The Preconference on March 18-21 will offer a range of educational sessions and short-courses, including:
Preparing Your Community for Wildfire Resilience – Mitigation Strategies and Tools
Assessing Structure Ignition Potential from Wildfire
Updates from NFPA's Research, Standards and Wildfire Division
Community Wildfire Readiness Education for the Fire Service
A Grassroots Approach to Fire Adaptedness: Local Success Stories
S-215 Fire Operations in the Wildland-Urban Interface
S-404 Safety Officer
S-355 Ground Support Leader
S-270 Basic Air Operations
The event is sponsored by the International Association of Fire Chiefs IAFC) in collaboration with the U.S. Department of the Interior, Forest Service, Nevada Fire Chiefs Association, and the National Association of State Foresters.
Please visit the Wildland Urban Interface 2017 website for more information on how to participate.