Planning Resilience for High-Impact Threats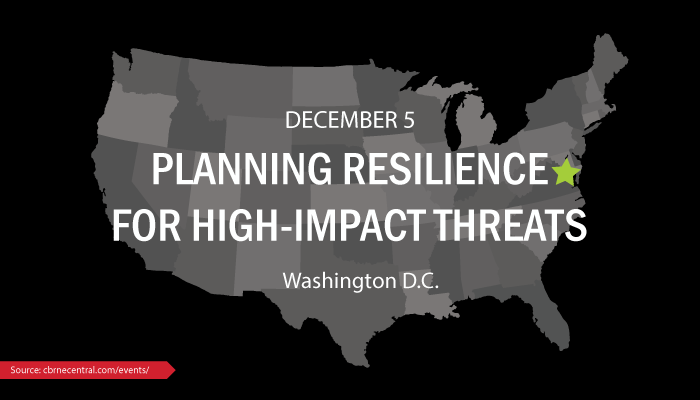 The Planning Resilience for High-impact Threats to Critical Infrastructure conference will be held 5 December 2014 in Washington D.C.
Top experts will update measures being taken to plan for and mitigate high-impact threats such as EMP, extreme space and cyber to critical infrastructure including power, communications and medical infrastructure.
This year's conference will also review recent emergency management table top exercises providing insights into practical steps that can be taken to reduce the tragic effects of these high-impact scenarios.
Distinquished presenters and panelists will include:
US Senator Ron Johnson (R-WI)
FERC Commissioner Philip D. Moeller
Ambassador Hank Cooper
VA Commonwealth Senator Bryce Reeves
Honorable Andrea Boland
NOAA Space Weather Prediction Center staff
Mary D. Lasky, Johns Hopkins Applied Physics Laboratory
Curtis Birnbach, President, Advanced Fusion Systems
Kevin Briggs, DHS Team Chief NCCIC
George Baker, Professor Emeritus, James Madison University
Bronius Cikotas, Former Division Chief, Defense Nuclear Agency
Paul Stockton, former Assistant Secretary of Defense for Homeland Defense
Richard Andres, Professor, National War College
Thomas MacLellan, National Governors Association
Dennis Schrader, President, DRS International
Terry Donat, Health Policy and Emergency Medicine, Chicago
Sierra Bainbridge, MASS Design Group, Off-grid hospitals, Boston
Commissioner Philip D. Moeller, Federal Energy Regulatory Commission
On Dec. 4, an invitation-only two part table top exercise of high-impact threat "Prepared or Unprepared" will be held at the National Guard Association HQ in Washington, DC. Initial results will be discussed on Dec. 5 at this event.
Please visit the Planning Resilience for High-impact Threats to Critical Infrastructure website for more information and to register.