EOD/IED & Countermine Symposium
November 7, 2016

-

November 8, 2016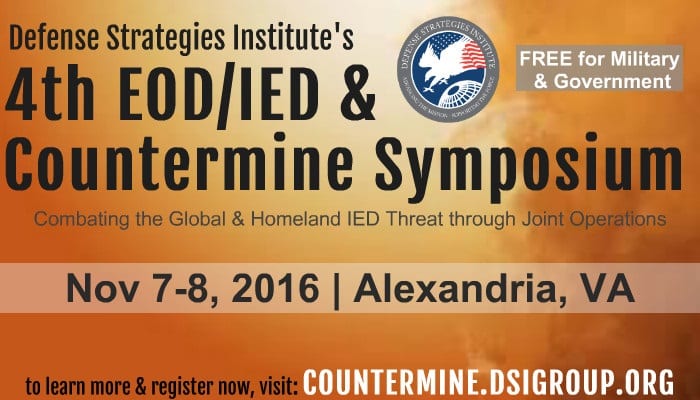 The 4th Annual EOD/IED & Countermine Symposium will be held November 7-8, 2016 in Alexandria, Virginia.
The event gathers federal security and defense officials as well as state and local managers and technicians for a 'whole-of-government' symposium focused on multi-level strategies to counter IEDs and other explosives threats.
Speakers include leadership from the Joint Improvised-Threat Defeat Organization (JIDO), Naval Surface Warfare Center, U.S. Army Engineer School Counter Explosive Hazards Center, Unexploded Ordnance Center of Excellence (UXOCOE), and Navy Expeditionary Combat Command Explosive Ordnance Disposal Group 2.
Highlighted topics include:
Next Generation Information Sharing and Reporting Methods for IED Incidents
Advancing EOD Initiatives to Support Render Safe Capabilities for the Warfighter
Defining Acquisition Priorities for Effective IED Countermeasures and Operations
Leveraging Private Sector Collaboration to Support Enhanced Counter-IED Operations
Near and Future R&D Efforts to Advance Detection and Neutralization Capabilities
Addressing EOD/IED Challenges in Asymmetrical Warfare Environments
Integrating Advanced Countermine Capabilities for Expeditionary Forces
Enhancing Threat Network Identification Capabilities
Methods to Mitigate Homemade Explosive Incidents for Greater Homeland Security
Please visit DSI Group's EOD/IED & Countermine 2016 website for more information and to register.
CBRNE Central is an official Media Partner of the EOD/IED & Countermine 2016 Symposium.