National Test and Evaluation Conference
March 6, 2017

-

March 8, 2017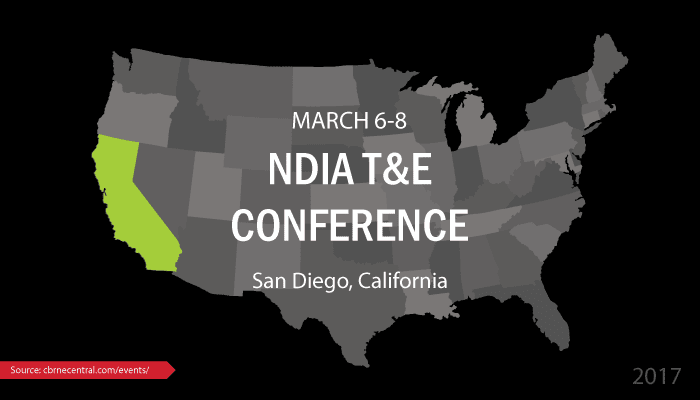 The National Defense Industrial Association (NDIA) will host the 32nd Annual National Test and Evaluation Conference on March 6-8, 2017 in San Diego, California.
The event seeks to focus on improving T&E in defense and homeland security acquisition systems under this year's theme of 'Strategic T&E Collaboration: Government-Industry Partnering to Achieve Decisive Operational Advantage'.
Senior T&E leaders and stakeholders will present their views on the current situation, what can be improved and how government & industry can partner to meet the near and long term needs.
Highlighted topics and presentations include:
Comprehensive Use of Advanced Automation/Robotics in Explosives Detection T&E
Explosives Simulant Verification and Validation
Results of Improved Collaboration between Explosives Equipment Vendors and DT&E Engineers
Development Test and Evaluation (DT&E) Bottle Liquid Scanner (BLS) Program
Model-Based Approaches for the Safe Testing of Autonomous Aircraft
Estimating Variability of Injuries in Underbody Blast Live-fire Testing for Evaluating Modeling and Simulation
DARPA Robotics Challenge: Ten Years of Lesson Learned Put into Action
Test Range Efficiency Panel
Case Study in DoD/DHS Partnership
The Integration of Mission Engineering and T&E
The New Normal – Continuous Testing by T&E
Formal Methods for Verification and Testing of Autonomous Systems
Computational Prototyping Environments (CPEs) — A Strategy for the Cost Effective Acceleration of DOD Weapon Systems Development
Lessons Learned in Planning and Executing F-35 Full Weapon System Testing
Role of the Cyber T&E Range Executive Agent
Highlighted session moderators and panel participants include:
Terry Murphy, Director, U.S. Department of Homeland Security DT&E
Robert Klueg, Branch Chief, Spectroscopy Technologies Developmental T&E, DHS
John Beck Jr., Deputy Director, Land Systems Operational Test and Evaluation Authority, U.S. Customs and Border Protection
Michael Snyder, Branch Chief, X-ray Inspection Technologies Developmental T&E, DHS
Michael Barrientos, Certification Readiness Test Lead, Bottled Liquid Scanner Systems, DHS S&T
Mark Fry, Chief, Laboratory Operations, DHS/S&T/CDS/TSL
Pete Christensen, Director, National Cyber Range, Test Resource Management Center
Steve Hutchison, Director, Test & Evaluation, U.S. DHS
Bill D'Amico, Johns Hopkins University Applied Physics Laboratory
William Van Besien, Software Engineer, Embedded Applications Group, JHU APL
Mark Bradbury, Chief Engineer, Cyber Operations, Development and Evaluation Center, Raytheon Company
Danny Holtzman, SES (USAF), Technical Director, Cyber, U.S. Air Force
Reed Young, Program Manager, Robotics and Autonomy, JHU APL
An optional off-site tour of SPAWAR Systems Center Pacific will be available to conference participants.
Please visit NDIA's National Test and Evaluation Conference website for more information.