International Conference on Emergency Medicine
April 18, 2016

-

April 21, 2016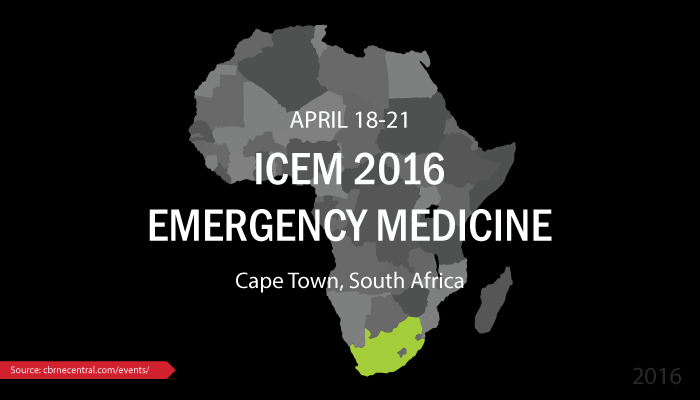 The International Conference on Emergency Medicine ICEM 2016 will held April 18-21, 2016 in Cape Town, South Africa.
The theme of the conference, "Emergency Medicine Now: Knowledge, Action and Accountability" reflects the event's focus on important aspects of emergency medical care including pre-­‐hospital care, emergency nursing and clinical practices.
Highlighted topics include:
How to manage the infectious disease in ED: MERS experiences in Korea
EM training in Sierra Leone: A pilot undergraduate program
Ebola West Africa outbreak control activities
An online learning program improves traumatic brain injury guideline adherence
From nerve gas to bombing: CBRNE challenges and management
Ebola treatment centers: West Africa outbreak
Operational pre-hospital healthcare audit of burn injury cases
The reliability of nurse-led triage in post-Ebola Sierra Leone
Text message-based emergency medical dispatching for community emergency response
Hurricane preparedness readiness: Assessment of healthcare workers
Point of care blood testing in the ED
Hostile urban environments, quality and EMS
Geriatric traumatic brain injury: Lessons from Japan
Black Friday terrorist attacks in Paris
Hospital disaster preparedness is EM
Pre-hospital recognition and management of patients in shock
Support for emergency nurses in Africa
EMS prototypes around the world
Please visit the ICEM 2016 website for more information and to register.