IDWeek 2015 – Infectious Diseases
October 7, 2015

-

October 11, 2015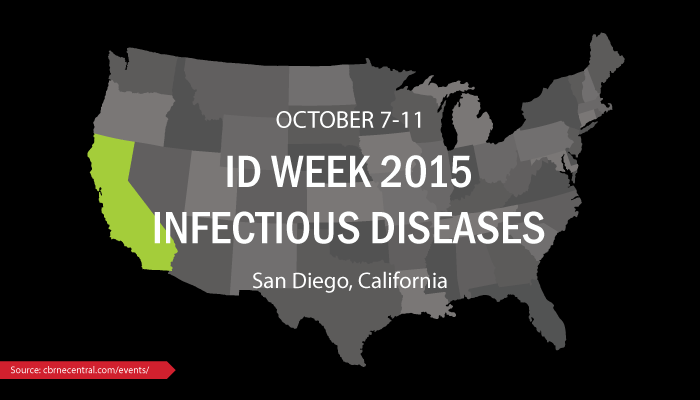 The IDWeek 2015 infectious disease conference will take place October 7-11, 2015 in San Diego, California.
IDWeek features the latest science and bench-to-bedside approaches in prevention, diagnosis, treatment, and epidemiology of infectious diseases, including HIV, across the lifespan.
The event is geared toward healthcare professionals in infectious diseases and healthcare epidemiology and prevention, including researchers, clinicians, quality and patient safety practitioners, epidemiologists, and public health officials.
Highlighted presentations and focus areas include:
Infectious Diseases Diagnostics
Ebola Global Response
Improving the Use of PPE and Isolation Prevention
Generating Evidence in Infectious Diseases Therapeutics
Rebuilding the Global Antibiotic Pipeline
MERS, Chikungunya, and Dengue; The Emergence Continues
Vaccines as a Tool to Combat Antimicrobial Resistance
Emerging Issues in Epidemiology and Control
Progress in Tropical Medicine
Planning for Bio-Emergencies
Immunizations for Global Disease
Debates on Tropical Vaccines: Malaria and Dengue
IDWeek is the combined annual meeting of the Infectious Diseases Society of America (IDSA), the Society for Healthcare Epidemiology of America (SHEA), the HIV Medicine Association (HIVMA), and the Pediatric Infectious Diseases Society (PIDS).
Please visit ISDA's IDWeek 2015 website for more information and to register.