CBRNe Convergence 2016 Congress & Exhibition
October 31, 2016

-

November 2, 2016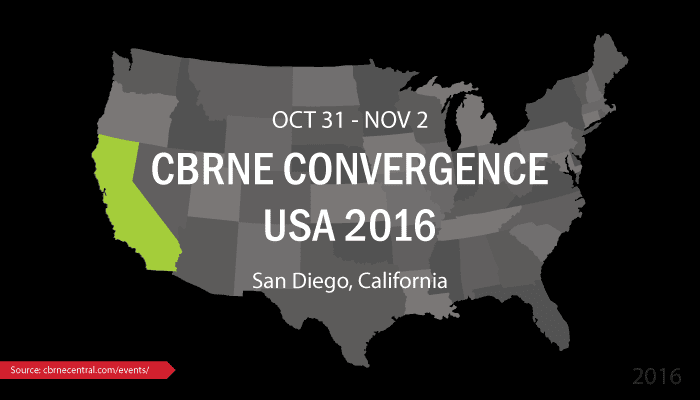 This year's CBRNe Convergence Congress & Exhibition will be held 31 October – 2 November, 2016 in San Diego, California.
Organized by the experienced team from CBRNe World magazine, the Congress draws leading experts and stakeholders from around the globe.
Highlighted speakers include:
Doug Bryce, Joint Program Executive Officer CBRN Defence, JPEO CBD
BG Gerry Amante, Commander Munitions Control Center, Armed Forces of the Philippines
James Peaco, FBI WMD Coordinator, Los Angeles
Col. Christophe Libeau, Senior HazMat & CBRN Technical Advisor of the Paris Fire Brigade
Stephen Cichocki, Program Manager CBRN, NORAD/NORTHCOM
Sermet Sezigen, GATA Medical University,Turkey
Mike Dayton, Deputy Director, City and County of San Francisco
Colin Barthel, food defence policy analyst, FDA
Michael Crowley, University of Bradford, UK
Michael Rogers, Los Angeles County Public Health, Emergency Operations
Please visit CBRNe World's CBRNe Convergence 2016 website for more information.