CBRN First Response 2016
January 26, 2016

-

January 27, 2016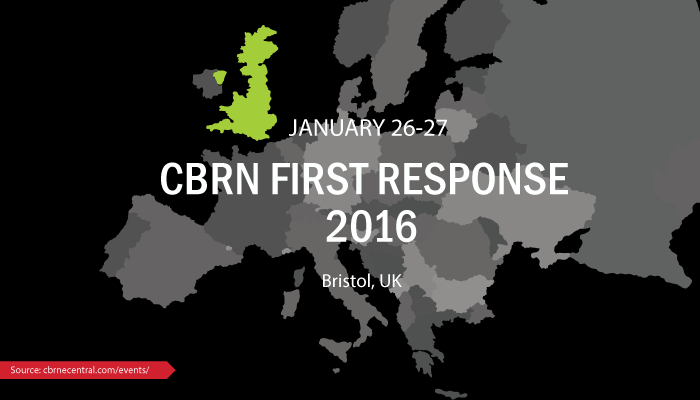 The CBRN First Response 2016 conference event will be held 26-27 January 2016 in Bristol, United Kingdom.
Topics will cover a wide range of pressing issues in Chemical, Biological, Radiological and Nuclear (CBRN) threat mitigation and emergency response. Regional case studies and an innovation showcase will round out the event.
Highlighted presenters include:
Robert Ingram, WMD Branch Chief, Centre for Terrorism and Disaster Preparedness, NYFD
Robert Henstridge, CB Response Scientist, DSTL
Andy Oppenheimer AIExpE MIABTIConsultant in CBRNE and Counter Terrorism
Lieutenant Colonel Stephan Jacobsen, CBRN Defence Adviser, NATO WMD Non-Proliferation Centre
Steve Johnson, Visiting Fellow, Cranfield University and Faculty Professor, Georgetown University
Lieutenant Colonel Miroslav Vybihal, Reach Back Section Deputy Chief and Intelligence Analyst, NATO JCBRN Defence Centre of Excellence
Eva Dickson, Defence Scientist, CB Assessment and Protection Section, DRDC Suffield Research Centre and Department of Chemistry and Chemical Engineering, Royal Military College Canada
Lieutenant Colonel Márcio Luis do Nascimento Abreu Pereira, Commander, 1st CBRN Defence Battalion, Brazilian Army
Superintendent Gloria Ogbuka, Head of CBRN Unit, Nigeria Security and Civil Defence Corps
Mr Gerlof De Wilde, Head of Innovative Research Unit, European Defence Agency
Mr Mike Thornton, Team Leader CBRN EU COE, European Commission Joint Research Centre (JRC)
Lieutenant Colonel Fabrice Jean, CBRN National Expert for Directorate General of Civil Security and Crisis Management, French Home Office
Major Wilfrid Thivet, Head of the National Advice Unit for Directorate General of Civil Security, French Home Office
Dr Alexander Grabowski, Head, Physical Protection, Decontamination and Water Purification Directorate, Bundeswehr Research Institute for Protective Technologies
Lieutenant Colonel Bernd Allert, Senior CBRN Defence Officer, Bundeswehr CBRN Defence Command
Police Constable Paul Lacey, Regional CBRN Lead, South West of England and Head of CBRN unit, Avon and Somerset Police
Police Constable Lee Neale, CBRN Unit Technical and Tactical Advisor, CBRN Unit Avon and Somerset Police
Please visit TDN's CBRN First Response 2016 website for more information and to register.