Biodefense World Summit
June 27, 2016

-

June 30, 2016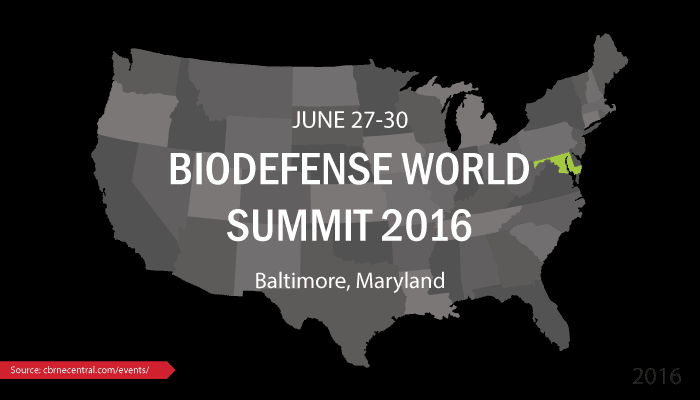 The Second Annual Biodefense World Summit will take place June 27-30, 2016 in Baltimore, Maryland.
The event brings together leaders from government, academia, and industry for compelling discussions and comprehensive coverage on pathogen detection, sample prep technologies, point-of-care, and biosurveillance.
Highlighted presentation and session topics include:
Next Generation Sequencing for Microbial Forensics at Point-of-Need
Paper-Based Analytical Devices for Detection of Foodborne Bacteria
The Biosurveillance Vision for JPEO
Developing a Strategy for Rapid Response to Emerging Threats
Advances in Flow Cytometry for Rapid Detection of Foodborne Pathogens
BioWatch: The Future of Biodetection
Advancing Bacteriophage-Based Detection of Pathogens
Ebola Outbreak 2014-2015: Experiences in Sample Preparation and Rapid Diagnosis
Climate Change, Emerging Infectious Diseases and Community Health Resilience
Third Generation Sequencing for Rapid Biosurveillance
A Smartphone Colorimetric Microplate Reader for Point-of-Care ELISA Quantification
Translation Challenges in POC Field Readiness
Optical Scattering Sensor for Label-Free Rapid Detection of Pathogen
A Disposable Cartridge for Automated Universal Sample Preparation System
Please visit the Biodefense World Summit website for more information and to register.