ADAS 2018 – Asian Defence, Security and Crisis Management
September 26, 2018

-

September 28, 2018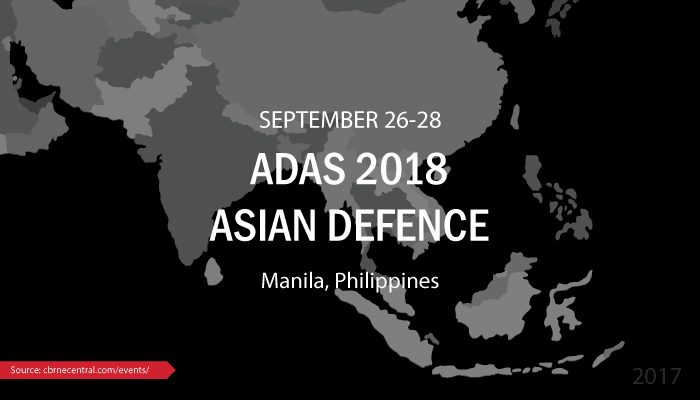 The 2018 Asian Defence, Security and Crisis Management Exhibition and Conference – ADAS 2018 will be held September 26-28, 2018 in Manila, the Philippines.
ADAS 2018 draws a significant number of international exhibitors from around the world. This is the only dedicated Defense and Security Exhibition held in the Philippines to serve the Republic and the wider Asia Pacific region.
Leadership from the Department of National Defense, the Armed Forces of the Philippines, the Philippine National Police, the Philippine Coast Guard (PCG) and the Office for Transportation Security will be on site to learn about the latest equipment and solutions.
Counter-terrorism areas highlighted for improvements by the Revised Armed Forces of the Philippines Modernization Program (RAFPMP) include:
C3 Command Posts and Vehicles, and Communication Relay Vehicles
Individual weapons, Communication Equipment, and Force Protection Equipment
Shelter Systems, Information Awareness Systems
Light Tactical Vehicles, Special Assault Vehicles
Ballistic Shields, CBRN Equipment, EOD Equipment
Parachute Systems, Fast Rope Systems, Rappel Kits, and Scuba Gear
Breaching Equipment
Portable Assault Weapons
Night Fighting Systems, Thermal Systems, and Display Sights
Assault boats, RHIBs, and Associated Equipment
Please visit the ADAS 2018 website for more information and event registration.