Army Research Laboratory Open Campus Open House
October 18, 2017

-

October 19, 2017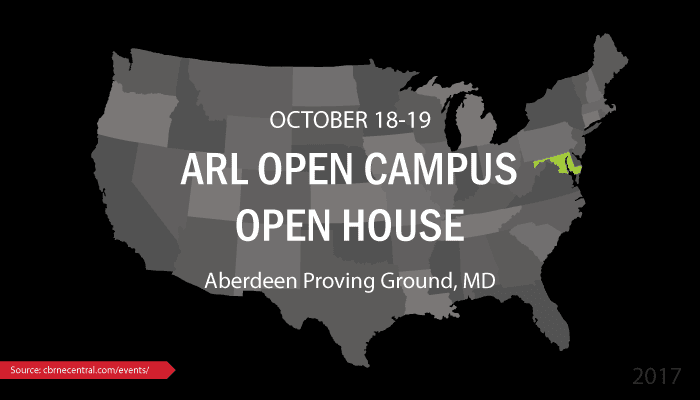 The U.S. Army Research Laboratory (ARL) 4th Open Campus Open House will be held 18-19 October 2017 at Aberdeen Proving Ground, Maryland.
This year's Open Campus Open House is an opportunity to discuss ARL's Open Campus business model, which aims to create access to unique ARL facilities, Army-relevant data sets, and expertise; generation of joint intellectual property; incubation of spinoff companies for the pursuit of science and technology innovations; and maturation and rapid transition of intellectual property and technologies to the industrial marketplace.
Attendees will hear details about ARL's strategic research areas, discuss collaboration and partnership opportunities with ARL's scientists and engineers, and tour many of ARL's specialized laboratory facilities. New this year is the opportunity to engage with regional leaders from ARL's extended sites, including a Partner Panel that includes Lockheed Martin, Per Vivo Labs, Lehigh University, and UMass Amherst. Keynote speakers are Mr. Rickey E. Smith, U.S. Army Training & Doctrine Command, on October 18th and SEN Christopher Van Hollen Jr. on October 19th.
Of particular note are lab tours and demonstrations from ARL's Human Sciences, Computational Science, Materials Research, Sciences for Lethality and Protection, and Sciences for Maneuver Campaigns. Highlights from these tours include: Stress effects on soldier performance, high performance computing demos, additive manufacturing, and advances in materials, propulsion, and autonomy.
Please visit ARL's Open Campus Open House event website for more information and to register.