42st Annual Boswick Burn & Wound Symposium
January 25, 2020

-

January 30, 2020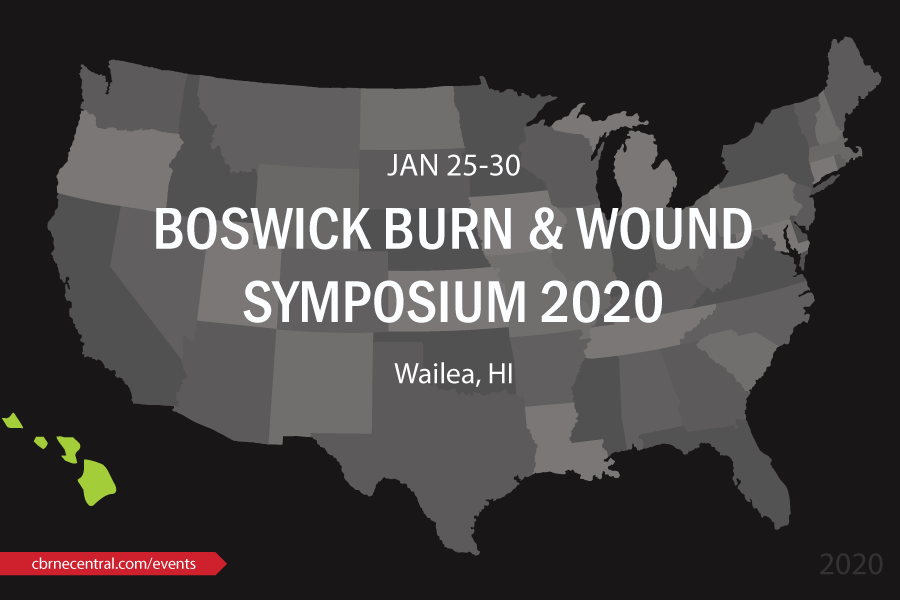 The 42nd Annual Boswick Burn & Wound Symposium will be held 25-30 January 2020 in Wailea, Hawaii.
This international conference is designed for physicians, researchers, investigators, nurses, therapists, dieticians, and others interested in development of techniques, treatments, drugs, and devices in the study and management of wound healing, wound management, burn care, and infection control.
The John A. Boswick, M.D. Burn and Wound Healing Symposium is a great opportunity to meet with leading surgeons and wound healing specialists face-to-face.
A representative sampling of topics from last year's symposium:
A Prospective Evaluation of Spray Keratinocytes to Treat Large TBSA Injuries
The Use of Tranexamic Acid in Burn Surgery: Preliminary Results from a Double-Blinded, Randomized Placebo-Controlled Trial
Treatment of Burns with Concentrated Surfactant Gel with or without an Antimicrobial AgentLimb Salvage and Diabetic Wounds with Bioabsorbable Temporizing Matrix
Hypochlorous Acid for Septic Abdominal Processes Using a Unique Negative Pressure Wound Therapy System
From Wound Care to Wound Closure and Remission: Surgical Means to Heal Wounds and Extend Ulcer-Free Days
The Role of Photographic Training in Wound Care
Use of The Amalgatome Surgical Device in Excision of Burn Wounds and Donor Site Harvesting
Use of Negative Pressure Wound Therapy With Instillation and a Dressing with Through Holes as an Option for Complex Wound Management
A Concept of Pediatric Second Degree Burn Care
Healthcare Resource Utilization of Stage 3 & Stage 4 Pressure Ulcer and Diabetic Foot Ulcer
Patients Treated Early with Clostridial Collagenase Ointment (CCO) – A Payers Perspective
VERSAJET II in the Outpatient Clinic: Providing Operative Care Outside of the Operating Room
Autologous Regeneration of Tissue (ARTTM) Skin Harvesting System: Technology Development and Early Experience
Clinical Experience of AmnioBand in Treating Complex Wounds
HISTORY
John A. Boswick was born and educated in Illinois. He received his medical education at Loyola University in Chicago, and graduated with both a Master of Arts Degree in Anatomy and M.D. degree. After his residency at Cook County Hospital, Dr. Boswick advanced academically to Professor of Surgery at Northwestern University, Director of Surgical Services, and Director of the Sumner Koch Burn Center, and Hand Surgery Service at Cook County Hospital.
In 1972, Dr. Boswick and his family moved to Denver Colorado, where he became Professor of Surgery at the University of Colorado. Aside from his academic responsibilities, Dr. Boswick served the American Burn Association as its seventh President, and was also an officer of the American Society for Surgery of the Hand. He was a consultant for the United States Army, the World Health Organization, and served as Secretary General of the International Society for Burn Injuries. He authored more than 100 articles and chapters in surgical journals and edited several books on the art and science of burn care.