2017 Biodefense World Summit
June 26, 2017

-

June 29, 2017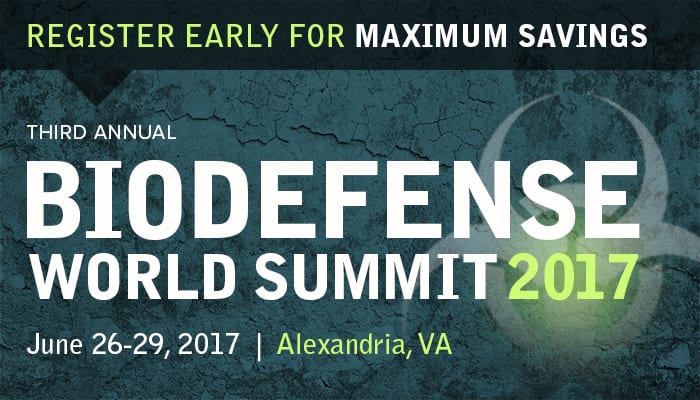 The Cambridge Healthtech Institute will host the Third Annual Biodefense World Summit from June 26-29, 2017 in Alexandria, Virginia.
This one-of-a-kind event offers comprehensive discussions of the latest technologies and methods in pathogen detection, sample prep, point-of-care, and biosurveillance.
Highlighted session topics include:
Field Portable Platforms for Multiplex Detection of Biothreat Agents
Recent Advances in Radiation Biodosimetry for Partial and Total Body Exposures
Rapid Point-of-Care Diagnostics for Biosurveillance
The BARDA CBRN Diagnostics Portfolio
Biodetection Capability Gaps and Requirements at U.S. Customs and Border Protection Operational Environments
Empowering Rapid Diagnostics with Sample Preparation Methodologies
An Affordable System for a Rapid Mass Casualty Response to a Large Area Coverage Biological Incident
Implementing Key Biowatch Program Priorities in the Near- and Mid-Term
A Case Study of the Biosurveillance Unclassified (BSP-U)
Point-of-Care Laboratory Testing for Pathogen Detection and Patient Management in Biodefense Settings
Leaders from government, academia, and industry are scheduled to participate. Highlighted speakers include:
Harshini Mukundan, Ph.D., Team Leader, Chemistry Division, LANL
Donna Boston, Project Officer, BARDA
Kurt Schaecher, Deputy Director, Division of Medicine, USAMRIID
Alina Deshpande, Ph.D., Group Leader, Biosecurity and Public Health, LANL
Romelito L. Lapitan, Ph.D., Director, Ag/Bio-Terror Countermeasures, DHS
Michael Walter, Ph.D., Biowatch Program Manager, DHS
Mary Sproull, Ph.D., Biologist, Radiation Oncology, NIH/NCI
Chris Taitt, Ph.D., Research Biologist, United States Naval Research Laboratory
Neeraja Venkateswaran, Ph.D., Senior Scientist, Research and Development, Tetracore, Inc.
Willy Valdivia-Granda, Ph.D., CEO, Orion Integrated Biosciences
Harshini Mukundan, Ph.D., Team Leader, Chemistry Division, LANL
Eric Garber, Ph.D., Division of Bioanalytical Chemistry, FDA CFSAN
Vincent Gau, Ph.D., President, Genefluidics, Inc.
Tammy R. Beckham, D.V.M., Ph.D., College of Veterinary Medicine, Kansas State University
Bob Buchanan, Ph.D., Professor & Director, Center for Food Safety & Security Systems
John Besser, Ph.D., Deputy Chief of the Enteric Diseases, Centers for Disease Control & Prevention
Please visit Cambridge Healthtech Institute's Biodefense World Summit website for more information on how to participate.
CBRNE Central is an official media partner of the 2017 Biodefense World Summit