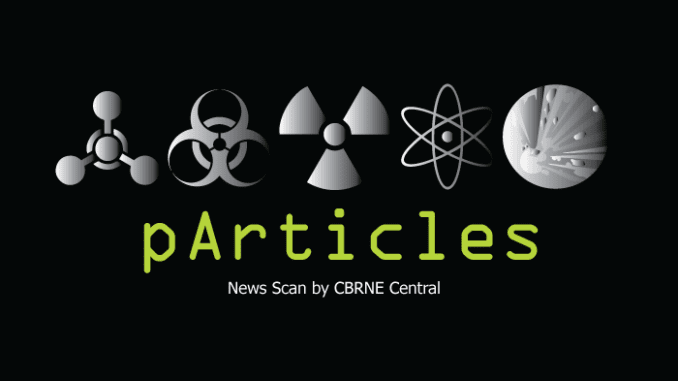 Topics in this issue include critical infrastructure protection, nuclear terrorism threat, body cameras for Border Patrol agents, and the U.S. Army CBRNE School.
This Debate Over a New Cruise Missile Has Gone Nuclear
Should the United States build a new nuclear air-launched cruise missile (ALCM)? The question has become the most controversial part of the U.S. government's multi-hundred-billion-dollar plan to replace the U.S. nuclear triad and its associated warheads and supporting infrastructure. This is as it should be, given the security and financial stakes involved. War on the Rocks >>
Pentagon Doesn't Have its Ducks in a Row When it Comes to Protecting US Infrastructure
While DOD has developed guidance to support civil authorities as part of its Defense Support of Civil Authorities mission, that guidance is muddled at best. There are not clear roles and responsibilities for the assistant secretary of defense for homeland defense and global security, the combatant commanders, and the dual-status commander who has authority over federal military and National Guard forces in supporting civil authorities. FierceGovernmentIT >>
Carter Seeks New Powers for Joint Chiefs, Top Commanders in War on Terrorism
U.S. Defense Secretary Ash Carter wants to elevate the role of the chairman of the Joint Chiefs of Staff, yet keep the top flag officer out of the chain of command — among a host of other changes he wants to make at the Pentagon in coming months. Defense One >>
Canadian Government Commits 143M to Rail Safety
In the recent Canadian federal budget, a commitment was made to spend $143 million over the next three years on safety in the transfer of dangerous goods by rail.  Canada's Transport Minister, Marc Garneau, has stated that rail safety is the top priority of Transport Canada. HazMat Management >>
Not Secure Enough: The Threat of Terrorists Acquiring Nuclear Materials is Still Serious
The Brussels attacks represent not just a reaffirmation of ISIL's ability to strike outside of its typical areas of operation, but also a potential near miss with an even weightier and more transcendent threat, namely the vulnerability of nuclear power plants and other facilities that house fissile materials or materials that emit dangerous amounts of ionizing radiation. War on the Rocks >>
Britain is Sending a Huge Nuclear Waste Consignment to America – Why?
A very unusual exchange is about to take place over the Atlantic. The UK is sending some 700kg of highly enriched uranium to be disposed of in the US, the largest amount that has ever been moved out of the country. In return, the US is sending other kinds of enriched uranium to Europe to help diagnose people with cancer. The Conversation >>
USA Sets Out Nuclear Security Strategy
The US Department of Energy's National Nuclear Security Administration (NNSA) has outlined its strategic plans for reducing the threat of nuclear proliferation and terrorism, including changes to the USA's program to dispose of surplus military plutonium. World Nuclear News >>
Navy, Coast Guard Test Their Nerves
Seeing Sailors or Coast Guardsmen in Missouri, let alone on an Army installation, is an unusual sight given their missions are mostly water-based. But considering the unique training opportunities the Navy and Coast Guard can get here at the U.S Army Chemical, Biological, Radiological and Nuclear School, E.F. Bullene CBRN Defense Training Facility, Fort Leonard Wood is the best place for them. myGuidon >>
A Firewalled Nuke Fund Is Bad Budgeting and Bad Planning
That was the year the last U.S. Nuclear Posture Review was done and the year Washington and Moscow agreed to very modest nuclear arsenal reductions in the New START Treaty. As a parting gift to the next administration, the Defense Department is considering funding a nuclear force for the future that, if carried out by Obama's successor, would be both fiscally wasteful and strategically unnecessary. Defense One >>
Texas DPS Hosts Annual Emergency Management Conference
The Texas Department of Public Safety's Texas Division of Emergency Management is hosting its annual conference through Friday at the Henry B. Gonzalez Convention Center in San Antonio. About 2,500 public- and private-sector emergency management professionals are attending the 2016 Texas Emergency Management Conference to participate in workshops, training sessions, and an expo. Occupational Health & Safety >>
South Korea Says North Has Capacity to Put Nuclear Warhead on a Missile
South Korea has determined that North Korea is capable of mounting a nuclear warhead on its medium-range Rodong ballistic missile, which could reach all of South Korea and most of Japan, a senior government official said on Tuesday. NY Times >>
Not Secure Enough: The Threat of Terrorists Acquiring Nuclear Materials is Still Serious
The recent suicide bombings in Brussels have turned the lion's share of public discourse, perhaps only briefly, away from the torrid primary elections coverage in the United States. These attacks merely served to underline the threat to the West that the self-declared Islamic State poses. War on the Rocks >>
Beefed-up Security Sought at U.S. Airports
Several security-related amendments were introduced this week for attachment to a Federal Aviation Administration funding bill under consideration on the Senate floor this week. The proposals include doubling from 30 to 60 the number of government "viper teams" that stop and search suspicious passengers in public areas before screening, often using bomb-sniffing dogs. They also want more federal grants to train law enforcement officers in how to prepare for and respond to mass shootings at vulnerable transportation areas. Emergency Management >>
What Does "Nuclear Terrorism" Really Mean?
Here is what nuclear terrorism most likely won't look like: A self-styled Islamic State caliph successfully launching a ballistic missile with a nuclear warhead at Washington, incinerating millions of people in a giant mushroom cloud. There are so many technical, financial, military, and logistical barriers that it would be extremely unlikely that even the most dogged, nuclear-obsessed extremist group could make that happen. Bulletin of the Atomic Scientists >>
Homeland Security Exploring Body Cameras for Border Patrol
U.S. Customs and Border Protection is soliciting feedback from technology companies on the use of body cameras for border patrol officers — another step toward expanding the agency's use of camera technology to shore up American border security. Nextgov >>
What Is a Dirty Bomb and How Dangerous Is It?
The worrying news that individuals affiliated with the so-called Islamic State have undertaken hostile surveillance at a Belgian nuclear research facility has created growing speculation about the group's nuclear ambitions. There are no indications that a terrorist group has obtained any fissile material to date. An easier option for a terrorist group would be to build a dirty bomb or, technically, a radiological dispersal device. The Conversation >>
Navy, Coast Guard Test Their Nerves
Seeing Sailors or Coast Guardsmen in Missouri, let alone on an Army installation, is an unusual sight given their missions are mostly water-based. But considering the unique training opportunities the Navy and Coast Guard can get here at the U.S Army Chemical, Biological, Radiological and Nuclear School, E.F. Bullene CBRN Defense Training Facility, Fort Leonard Wood is the best place for them, said Navy Master Chief Petty Officer Wesley Lairson, learning site director, Navy Chemical, Biological and Radiological Defense School. My Guidon >>