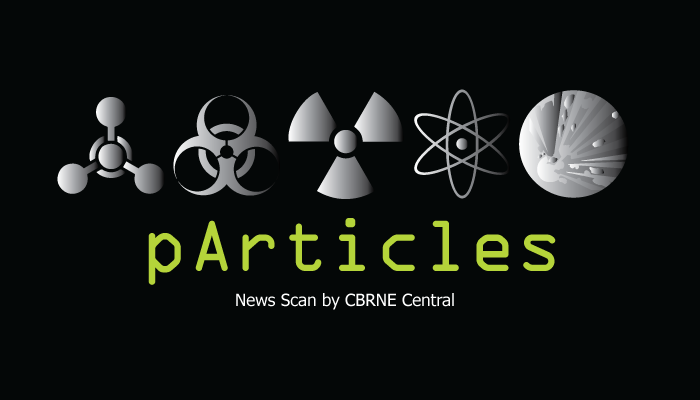 Topics in this issue include mustard gas use in Syria; port security and dirty bombs; radiation-tolerant materials; and the post-nuclear war Fallout 4 video game.
Chemical Weapons Experts Confirm Islamic State Use of Mustard Gas in Syria
Report by Organisation for the Prohibition of Chemical Weapons raises questions over whether jihadists are able to make agent themselves, or if they have accessed undeclared Assad stockpile. The report provides the first official confirmation of use of sulphur mustard, commonly known as mustard gas, in Syria since the regime of Bashar al-Assad agreed to destroy its chemical weapons stockpile. The Telegraph >>
Laser Detection of Hazardous Materials
The U.S. Army Contracting Command; Aberdeen Proving Ground (ACC-APG) this week announced intentions to award a contract to GAM Laser Inc., in support of the Chemical Surface Detector (CSD) program. Global Biodefense >>
Researchers Uncover New Origins of Radiation-Tolerant Materials
A new report from Los Alamos National Laboratory in Nature Communications provides new insight into what, exactly, makes some complex materials radiation tolerant. The goal of such projects is to understand at a fundamental level just how materials respond to being irradiated, and how that response depends on fundamental properties of the material, such as its crystal structure and crystal chemistry. R&D Magazine >>
3-D Printing the Bomb? The Nuclear Nonproliferation Challenge
A revolution in manufacturing is underway that may enable the most sensitive pieces of a nuclear weapons program to be transferred and produced around the globe. In the Additive Manufacturing (AM) process, 3-D printing machines build objects of virtually any shape from digital build files—the essential data telling printers how to construct an object—by laying down successive layers of material. Carnegie Endowment >>
How Al-Shabab Could Get Their Hands on a Nuclear Core
Last April, four al-Shabaab fighters killed 148 people at Garissa University in northeastern Kenya, just up the street from a major military installation. While students fled, barefoot and in their nightclothes, the soldiers remained on standby, unsure how to respond, and elite police took hours to arrive. This does not sound like a country that should be getting a nuclear program, even a civilian one. And yet it is, getting an initial thumbs-up from the International Atomic Energy Agency in August. Defense One >>
Fort Bragg Gate Reopened After EOD Response
Fort Bragg officials closed a base gate for much of Wednesday afternoon after highway workers discovered 155mm artillery rounds in the area. An explosive ordnance disposal team, firefighters and military police responded to the discovery, which was made by a crew taking part in an ongoing Interstate 295 construction project near the North Carolina base's Yadkin Road Access Control Point. Army Times >>
2015 National Drug Threat Assessment Summary
The Drug Enforcement Administration (DEA) released the 2015 National Drug Threat Assessment Summary earlier this morning.  The annual assessment details the threats posed by drug use, drug trafficking, and relevant criminal organizations. Homeland Security Digital Library >>
Kandal Excavators Find US-Made MK82 Bomb
An excavator operator was lucky to escape with his life on Sunday evening after striking a 227-kilogram bomb left over from the 1970s while digging in Kandal province's Ksach Kandal district. Phnom Penh Post >>
Bio-Rad Contract Supports CDC Anthrax Assay Development
The company will conduct Human Fab (Fragment Antigen Binding) generation and production against Anthrax Lethal Factor. The contract includes an option for either large-scale production of Fabs or conversion of optimal Fab pairs into full length human IgG1 monoclonal antibodies and performance of large scale production of full-length IgG1. Global Biodefense >>
Lawmakers Concerned Over Threat of Dirty Bomb to US Ports
It's the stuff of nightmares and thrillers. Terrorists detonate a dirty bomb at a US port and the nation plummets into chaos as the radioactive material spreads across dozens of square miles, resulting in thousands of lost lives and billions of dollars as the nation struggles to recuperate in the wake of the attack. Homeland Security News Wire >>
Why the Excitement Over Post-Nuclear-War Game Fallout 4?
As followers of nuclear weapons policy worry about arms control and watch Iran begin to fulfill its new agreement, another group is abuzz with excitement about its own newsworthy nuclear occasion. Video gamers across the globe are eagerly anticipating the November 10 release of Fallout 4, the newest version of Bethesda Game Studios' bestselling series set in a post-nuclear-apocalypse wasteland. Bulletin of the Atomic Scientists >>
Gauging Return on Investment in Preparedness: Equipping
Equipping is generally a preparedness activity in which we can more easily identify what our actual investment is.  Unlike Planning, which requires varying amounts of time from a number of people, or Organizational efforts which sometimes have rather esoteric costs, when we purchase or maintain equipment, we usually have a receipt in hand. Blog by Tim Riecker >>