TRB Annual Meeting 2016
January 10, 2016

-

January 14, 2016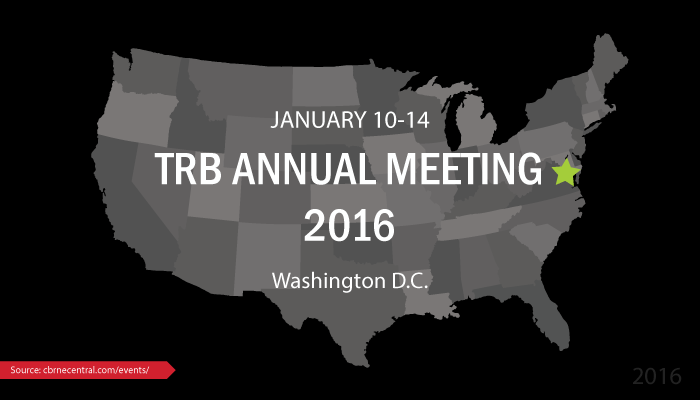 The Transportation Research Board 95th Annual Meeting – TRB 2016 – will be held January 10-14, 2016 in Washington, D.C.
The event attracts more than 12,000 transportation professionals from around the world, and features more than 5,000 presentations in nearly 800 sessions and workshops. Several sessions at the 2016 TRB Annual Meeting will feature officials from the U.S. Department of Transportation and executives from state departments of transportation.
Highlighted topics include:
Transportation of Hazardous Materials
Contemporary Research Issues for Aviation-Mediated Disease
Logistics of International Humanitarian Relief Efforts in Africa and Nepal
Cost-Effectively Combining Resilience and Port Operational Needs
Logistics of Disaster Response and Business Continuity
Critical Transportation Infrastructure Protection
Emerging Research in Emergency Evacuation
Research Trends in Evacuation Transportation Modeling and Analysis
Concerns About Human Trafficking and Hazardous Materials
Evacuations as a Component of Transportation Resilience
Leadership Skills for Disaster Response and Business Continuity
Safety and Security of Bridges and Structures
Contemporary Research Issues in Aviation Security and Safety
Drones and the Future of Military Transportation
Please visit the TRB 2016 website for more information and to register.