Pan Arab Military Medicine
November 4, 2014

-

November 7, 2014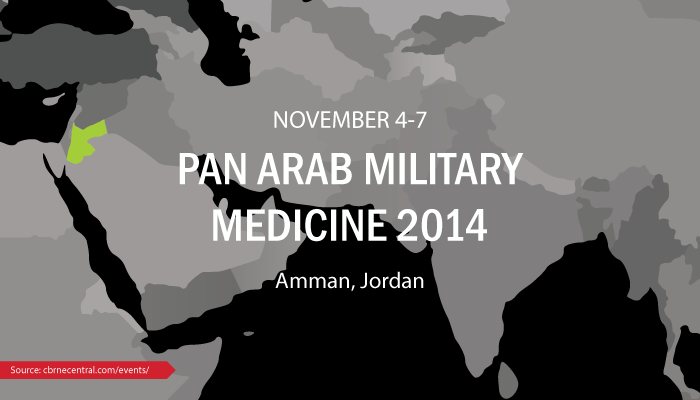 The 4th ICCM Pan Arab Regional Working Group Congress on Military Medicine will be held November 4-7, 2014 in the Kingdom of Jordan.
The event is co-located with the 7th International Conference of the Royal Medical Services and will be attended by more than 4000 regional and international participants.
Highlighted sessions include:
Medical Aspects of Chemical and Biological Warfare
Acute Trauma and Emergency Medicine: The Core of Military Medicine
Refugee Health: When Military Medicine Takes the Lead
Humanitarian Missions: How to Make it a Success
Mobile Technologies to Support Humanitarian Missions
Advances in Pandemic Preparedness
CBRN Casualties Preparedness
Developing Surveillance and Situational Awareness of Emerging Pathogens for U.S. Military
Profile on USAMRIID, an Insurance Policy for the Nation and the World
Vaccine Countermeasures for Diseases of Military Relevance
Arthropods of Military Importance in Saudi Arabia
Electronic Surveillance System for Early Notification of Community-Based Epidemics (ESSENCE)
The Case of MERS-CoV: U.S. Military's Response to Emerging Pathogen Detection
Tactical Medical Training System
Health Hazards During Deployment: Risk Factors, Prevention and Management
Transport of Pharmaceuticals to Support Military Missions
Lower Limb Injuries Caused by IEDs
Field Management of Chemical/Biological Casualties
CBRN Medicine: Clinical Challenges and Advances
The event is organized by the Jordanian Royal Medical Services and aims to identify the changes in military health care practices needed to prepare military health care providers for the current and future landscape.
Please visit the 4th ICMM Pan Arab Regional Working Group Congress on Military Medicine website for more information and to register.