NCT eXplosive Europe 2016
February 23, 2016

-

February 25, 2016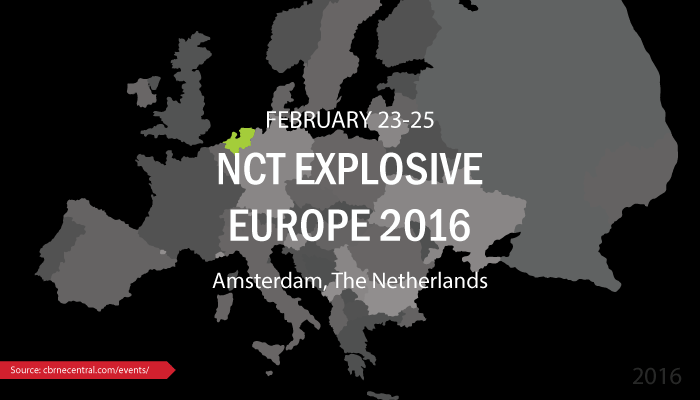 The Non-Conventional Threat NCT eXplosive Europe 2016 conference event will be held February 23-25, 2016 in Beurs Van Berlage, Amsterdam, The Netherlands.
Highlighted topics include:
C-IED and Urban Security: Countering the Terrorist Use of Explosives from Detection to Mitigation
Development of Terrorist Threats to Global Metropolises – New York City Case Study
Rise of Terrorism: Consequences for Public Transportation and Critical Infrastructure Protection
Protecting Critical and Military Infrastructures from Explosives Terrorist Attacks
CBRN EOD and CBRNe Exploitation
New Technologies Which Could Help Protect Buildings from IED Explosions
The Dirty Bomb Scenario: Planning for the Unthinkable
Urban Security and Critical Infrastructure Protection
MTM CE, EOD & IEDD Education, Training & Exercises for Civil and Military Cooperation;
EOD in Libya – The Different Types of Detonators Used in IEDs in Afghanistan
ERW Disposal in the Netherlands
Demining Efforts in Montenegro
The Use of Chemicals in IEDs – Case Studies from the Middle East
The Royal Netherlands Armed Forces CBRN Command and National Training Center (NTC) will be host a live capability demonstration during on Feb. 23., showcasing an international civil-military response to a terrorist attack using CBRNe means.
Please visit IB Consultancy's NCT eXplosive Europe 2016 website for more information and to register.