NCT CBRNe USA 2016
May 31, 2016

-

June 2, 2016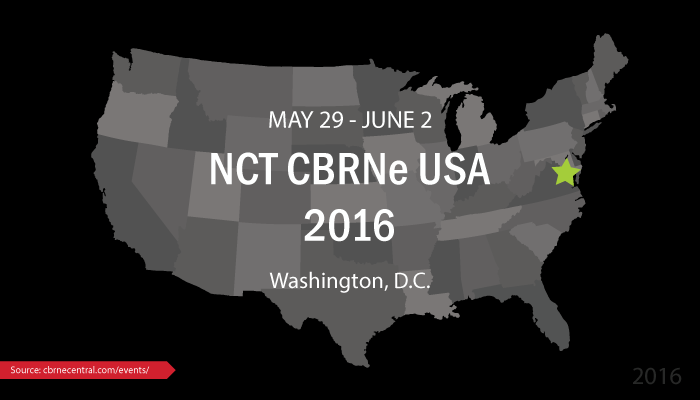 The Non-Conventional Threat NCT CBRNe USA 2016 conference will be held May 31 – June 2, 2016 in Washington, D.C.
This 2nd edition of NCT CBRNe USA gathers leading subject-matter-experts and stakeholders in the field of chemical, biological, radiological, nuclear, and explosives (CBRNE) defense and security.
Plenary speakers include Brig. Gen. JB Burton (ret), the former Commander of the U.S. Army's 20th CBRNE Command, where he was responsible for the manning, equipping, and training of more than 5,300 Soldiers and civilians across two Explosive Ordnance Disposal Groups, one Chemical Brigade, and a CBRNE Analytical and Remediation Activity.
Other highlighted sessions include:
Protecting The Warfighter: Stand-Off Protection and Medical Countermeasures
Enhancing Resilience Against Biological Threats in The U.S.
International Lessons Learned in CBRNE Response and Organization
Domestic Civil Support for Major CBRN Incidents
Consequences Management for Critical Infrastructure and Urban Areas
Terrorism, Dirty Bombs, Necessary Intel Solutions
A life CBRNE Demonstration as well as a static equipment display are also planned for this year's event.
Please visit IB Consultancy's NCT CBRNe 2016 website for more information and to register.