NCT CBRNe Europe 2016
February 23, 2016

-

February 25, 2016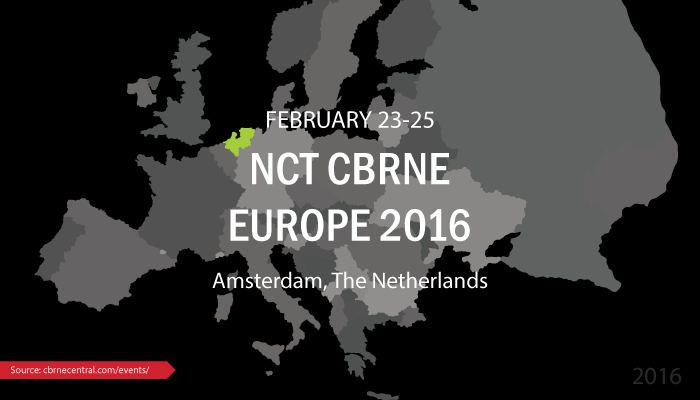 The Non-Conventional Threat (NCT) CBRNe Europe 2016 conference will take place February 23-25, 2016 in Amsterdam, The Netherlands.
NCT CBRNe Europe brings together leading experts, professionals, and organizations important to chemical, biological, radiological and nuclear (CBRN) preparedness and response capabilities in Europe.
The conference will emphasize biological threats and response, operational decontamination and recovery, nuclear disaster preparedness, and operational readiness of European CBRN Defense Commands.
Highlighted topics include:
Biological Threats and Response: Lessons Learned from the Ebola Virus Disease Outbreak
Countering CBRN Threats on the International Level
CBRN Defense Organization and Preventive Measures Introduced in Europe
Technical Requirements for CBRN Reconnaissance and Analysis
Case Studies and Lessons Learned from Past CBRN Defense Missions
Tabletop Exercise: Large Scale Biological Incident in the Netherlands
Operating in the Hotzone – New Approaches and Technologies Introduced in Civil CBRN Response
Lessons Learned in Chemical and Radiological Operational Decontamination and Recovery
Protecting the Public Against Radiological and Nuclear Incidents and Terrorism
This year's event includes a live CBRNE and EOD demonstration, case studies and lessons learned from past CBRN defense missions, and a number of networking opportunities. In addition, a large exhibition will showcase the state of the art CBRN technologies.
Please visit IB Consultancy's NCT CBRNe Europe website for more information and to register.