NCT CBRNe Asia, Explosive Asia & SISPAT 2017
March 21, 2017

-

March 23, 2017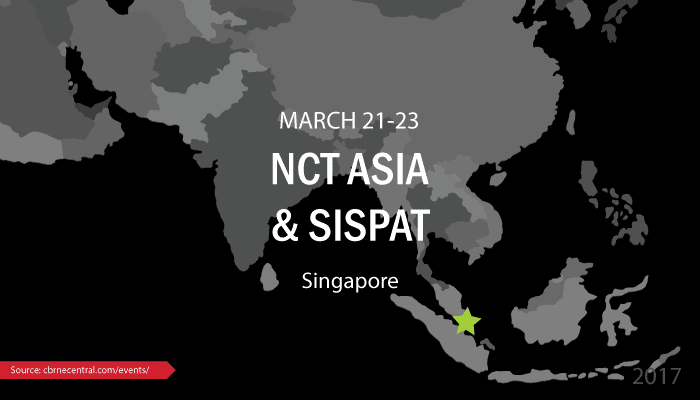 The Non-Conventional Threat (NCT) CBRNE Asia, NCT Explosive Asia and the 8th Singapore International Symposium on Protection Against Toxic Substances (SISPAT) events will be hosted concurrently on March 21-23, 2017 in Singapore.
Co-organized by the DSO National Laboratories from Singapore and IB Consultancy, the three conferences will have one shared exhibition showcasing the latest equipment from the global CBRN and C-IED/EOD industries.
Highlighted sessions include:
Protecting High Visibility Events against explosive threats
Border protection: preventing the threat from entering the country
Nuclear accidents: regional cooperation and response
Protecting the aviation industry against CBRNe threats
Special Forces operations in an EOD/CBRNe environment
CBRN protection, decontamination and remediation
UXOs to IEDs: fighting the root cause
Organizing the force: C-IED operations
Command and Control of CBRNe Emergencies
Detecting the threat: developments in CBRNe Detection
CBRN verification and forensics
Please visit the NCT Asia & SISPAT conference website for more information on how to participate.