National Healthcare Coalition Preparedness
December 1, 2015

-

December 4, 2015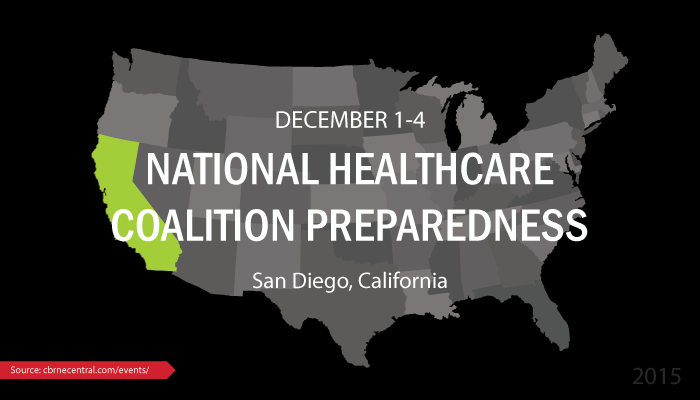 The National Healthcare Coalition Preparedness Conference will be held December 1-4, 2015 in San Diego, CA.
The Conference is co‐hosted by the National Healthcare Coalition Resource Center, a program founded and operated by three non‐profit healthcare coalitions, MESH Coalition, Northern Virginia Hospital Alliance, and the Northwest Healthcare Response Network.
Scheduled topic courses to include:
Ebola Readiness: Coalition Perspectives on Regional Cooperation
Who You Gonna Call? A Regional Approach to Responding to Infectious Diseases
Medical Countermeasure Planning & Response: What Changes do Healthcare Coalitions Need to Know?
Building Responder Resilience: Lessons Learned in Field Response to EVD in West Africa
Innovations in Emergency Management and Healthcare: Federal Initiatives
The event will be held in conjunction with the 6th Annual ARC (Advancing & Redefining Communities for Emergency Management) Conference. ARC is held in partnership with the Veterans Emergency Management Evaluation Center (VEMEC) of the US Department of Veterans Affairs.
Please visit the National Healthcare Coalition Preparedness 2015 conference website for more information and registration.