Mass Gathering Medicine Summit (MGMS)
February 10, 2017

-

February 11, 2017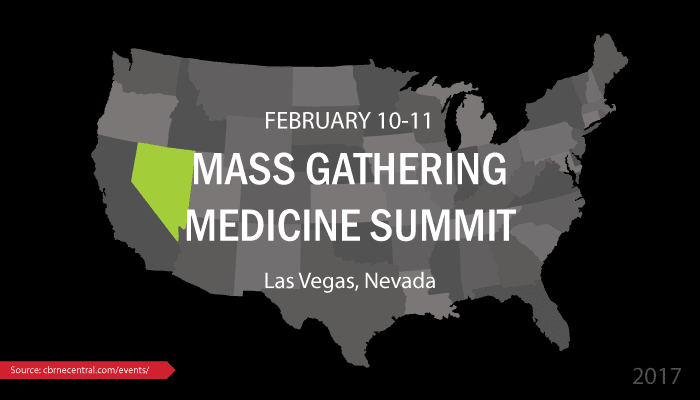 The 2017 Mass Gathering Medicine Summit will be held February 10-11, 2017 in Las Vegas, Nevada.
The annual Mass-Gathering Medicine Summit provides the only annual conference and symposium for mass-gathering medical professionals to network, learn from one another, establish partnerships, and understand the latest trends in medicine.
The event includes scores of keynote presentations, informative panel discussions, breakout sessions, social activities, and more. Highlighted topics include:
Creative Techniques for Disease Surveillance and Mass Gathering Planning
Promoting Research, Education, and Training in Mass Gathering Medicine
When Your Gathering Becomes a National Special Security Event
The Evolving Disciplines of Special Event & Mass Gathering Medicine
Preperation and Utilization of Air Medical Resources at Major Events
Military Decision Making for Civilian Mass Gathering Events
Developments in the Medical-Legal Aspects of Mass Gathering Events
Effective Methods to Mitigate Risks at Festivals
Bleeding Control Tactics for the Streets, the Stands, and the Stage
The Hajj Challenge: Finding Strategic Solutions for the World's Largest Mass Gathering
The Insider Threat and Implications for Mass Gathering Medicine
Emergency Physician Experiences at Two Large Outdoor Music Festivals
Law Enforcement and Public Interface at Mass Gatherings
The Key Role of Choreography & Table Top Exercises for Medical Teams
Malignant Hyperthermia and Dantrolene at Major Festivals
Sports Medicine and Injury Considerations at Live Events
Gillette: From the Patriots to Taylor Swift, the Stadium Medical Care Experience
Please visit the Mass Gathering Medicine Summit website for more information and to register.