Joint Civil & DoD CBRN Symposium
March 21, 2017

-

March 22, 2017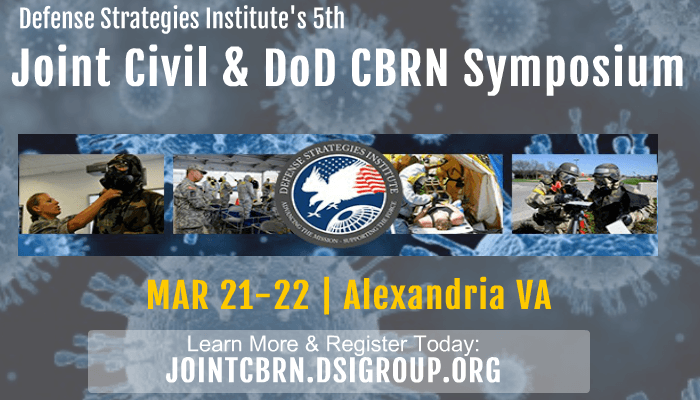 The 5th Annual Joint Civil & DoD CBRN Symposium will be held March 21-22, 2017 in Alexandria, Virginia.
Sponsored by the Defense Strategies Institute, the town hall forum event draws stakeholders in chemical, biological, radiological and nuclear defense for actionable discussions and debate on "Advancing aWhole of Government Approach to CBRN Defense, Response & Readiness".
The agenda is designed to allow for ample networking opportunities and the ability to discover some of the latest technologies related to Chemical and Biological Defense, Detection & Disease Surveillance, Integrated Logistics Support Center, training, as well as Contamination Avoidance, and Transformational Medical Technologies.
Highlighted topic areas include:
Maintaining biosurveillance systems
Maintaining critical capabilities and competencies
Rapid development, testing, and fielding of CBRN defensive capabilities
Decision support data methodologies at multiple levels of leadership
Homeland Security CBRN reorganization update
Public heath IT & biomedical interoperability with legacy healthcare
Reducing interference of CBRN equipment with operational platforms and communications
Advanced threat decontamination
Please visit DSI Group's Joint Civil & DoD CBRN Symposium website for more information and to register to participate.
CBRNE Central is an official media partner of the Joint Civil & DoD CBRN Symposium.