IAEM Annual Meeting 2016
October 14, 2016

-

October 19, 2016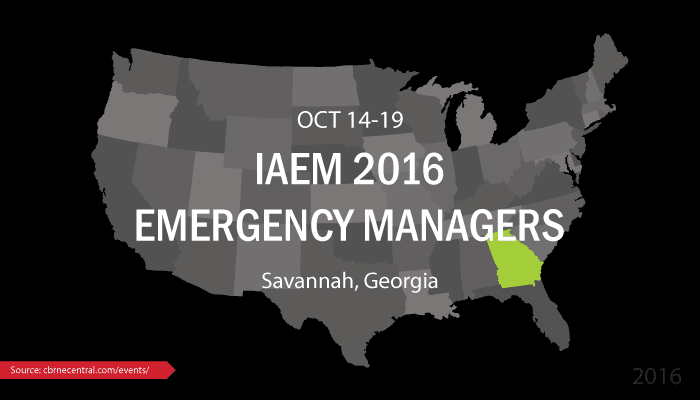 The 64th Annual Meeting of the International Association of Emergency Managers (IAEM) will be held October 14-19, 2016 in Savannah, Georgia.
The event draws leading experts and stakeholders to share lessons learned from actual disasters, discuss leading operational challenges, and to improve job proficiency.
IAEM 2016 will be attended by emergency management professionals in all levels of government, private sector, public health and related professions with more than 2,500 participants expected.
Professionals from the following disciplines typically attend the IAEM event:
Emergency managers
Federal Coordinating Officers
Federal officials from DHS, HHS, EPA, DOT and others
Disaster planners
Homeland security professionals
Fire chiefs
Communications system specialists
Police chiefs
Crisis and risk managers
Healthcare disaster professionals
Contingency planners
Meteorologists
Environmental response professionals
EM/terrorism educators
Executive officers/commanders
Featured speakers at this year's event include:
Craig Fugate, Administrator of the Federal Emergency Management Agency (FEMA)
Lee Feldman President-Elect of the International City/County Management Association (ICMA) and City Manager for City of Fort Lauderdale, FL
Leonard Marcus, Ph.D., Founding Co-Director of the National Preparedness Leadership Initiative, a joint program of Harvard School of Public Health (HSPH) and Harvard's Kennedy School of Government
Please visit the IAEM Annual Conference website for more information and registration.