European Conference on X-Ray Spectrometry
June 19, 2016

-

June 24, 2016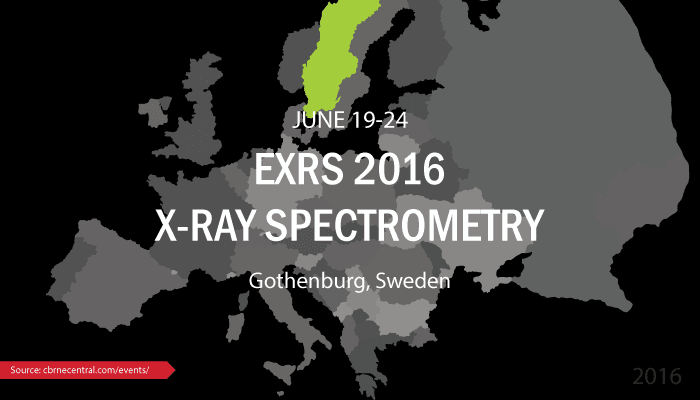 The European Conference on X-Ray Spectrometry – EXRS 2016 is scheduled to take place June 19-24, 2016 in Gothenburg, Sweden.
The event draws scientists from around the world working in x-ray spectrometry or using one of its several techniques. Highlighted topics include:
The main topics of the EXRS 2016 conference
Interactions of X-rays with matter and fundamental parameters
XRS Instrumentation (X-ray sources, optics and detectors)
Quantification methodology and metrology
TXRF, GIXRF and related techniques
Microbeam techniques, confocal XRF and X-Ray imaging
Mobile and portable XRF
Synchrotron XRS, XAFS, high resolution XES, and RIXS
PIXE instrumentation and applications
Electron induced XRS
WDXRS
X-ray diffraction (XRD)
XRS in Art and Cultural Heritage
XRS in Advanced Materials and Nanoscience
XRS in Earth and Environment sciences
XRS in Industrial Quality and Process Control
XRS in Life Sciences and Forensics
Recent Scientific Developments by XRS Instrumentation Manufacturers
Discussion forums will be offered for research and applications of x-ray spectrometry in a rich variety of fields like materials science, chemistry, radiation physics, medical physics, medical imaging, biology, environment, cultural heritage, technology and industry.
Please visit the EXRS 2016 website for more information and registration.