CBRNe Summit Asia 2016
December 5, 2016

-

December 7, 2016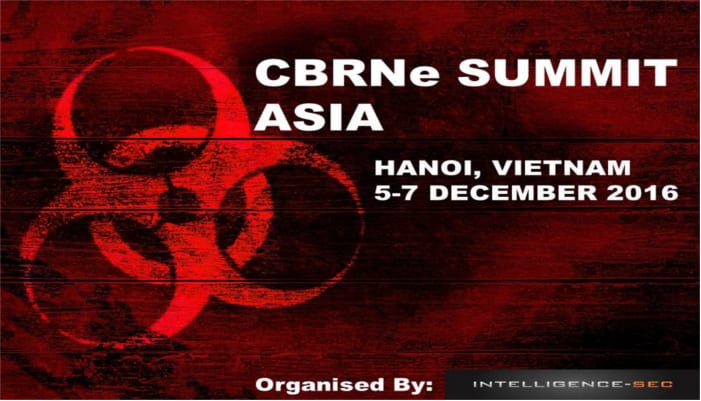 The 2nd annual CBRNe Summit Asia will take place December 5-7, 2016 in Hanoi Vietnam.
This key event draws regional and international stakeholders to address emerging threats and risk mitigation at the both the national and local level.
This event will also review what the host-country government of Vietnam is doing to create their CBRNe Capabilities and how they are working side by side with neighboring nations and the UNICRI.
Highlighted speakers include:
Her Excellency Cecilia Piccioni, Ambassador, Embassy of Italy, Vietnam
Major General Ben Yura Rimba, Surgeon General, Ministry of Defence, Indonesia
Professor Dr. Huu Tan Vuong, Director General, Vietnam Agency for Radiation and Nuclear Safety
Colonel Dr. Pisutti Dararutana, Chief Research and Development Section, Chemical Department, Royal Thai Army
María Eugenia de los Ángeles Rettori, Regional Coordinator, CBRN Risk Mitigation and Security, Governance Unit
United Nations Interregional Crime and Justice Research Institute (UNICRI), Superintendent Ruby Grace Sabino-Diangson, Medico-Legal Officer and Deputy Chief Quezon City Police Districy Crime Laboratory Office
National Police Force, Philippines, Dr. Shah Jahan Mohd Yussof, Emergency Physician, Kuala Lumpur Hospital, Malaysia
Ninh Giang Nguyen, Environmental Monitoring and Emergency Response Section Technical Support Center for Radiation & Nuclear Safety and Emergency Response, Vietnam Agency for Radiation and Nuclear Safety (VARANS)
Professor Paul Arbon Dean of School of Nursing and Midwifery and Director of Torrens Resilience Institute, Flinders University, Australia
Professor Roberto Mugavero, President, Observatory on Security and CBRNe Defence – OSDIFE
Please visit the CBRNe Summit Asia website for more information.
CBRNE Central is an official media partner of CBRNe Summit Asia 2016.