AMSUS 2017 Annual Meeting
November 28, 2017

-

December 1, 2017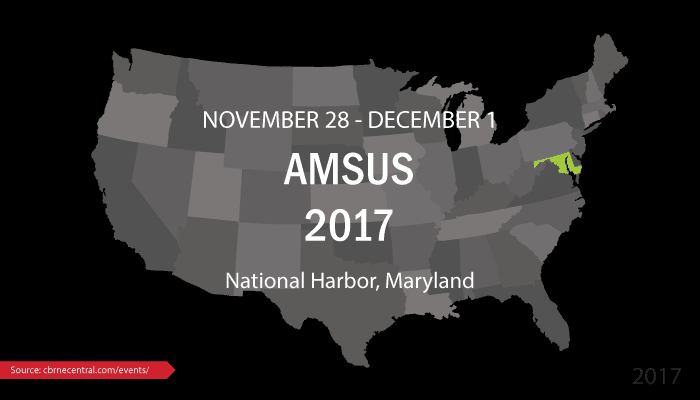 The AMSUS 2017 Annual Continuing Education Meeting will take place 28 Nov – 1 Dec 2017 in National Harbor, Maryland.
Hosted by the Society of Federal Health Professionals, this year's theme is Force Health Protection: From Battlefront to Homefront.
Highlighted sessions include:
Enhancing PHS Readiness: Training for Tomorrow Today
State of Science Report to Minimize Impact of Wound Infections in Blast-Related Injuries
Patient Movement: The Hail Mary of Public Health Emergency and Disaster Response
Medical Support 3.0: The Next Way to Take Care of Battlefield Injuries
UK Force Health Protection Audit
A Clinician's Guide to Distinguishing Chronic Neuropsychiatric Effects from Mefloquine from Symptoms of PTSD/TBI
Operation Return to Force for Special Operators with Mild Traumatic Brain Injury (MTBI)
Cohort Study Of OIF/OEF Veterans: A Blood Integrative Molecular Assessment
Value of GHE to Combatant Commands
Red Light, Green Light: Decision-Making for a Large-Scale EHR
Navy Medicine's Journey to High Reliability
Establishing a US Military Mortality Surveillance System
Federal Patient Movement: A Discussion of Lessons Learned from Irma/Maria
Please visit the AMSUS 2017 website for more information and to register.