NCT CBRNe Middle East
December 9, 2014

-

December 11, 2014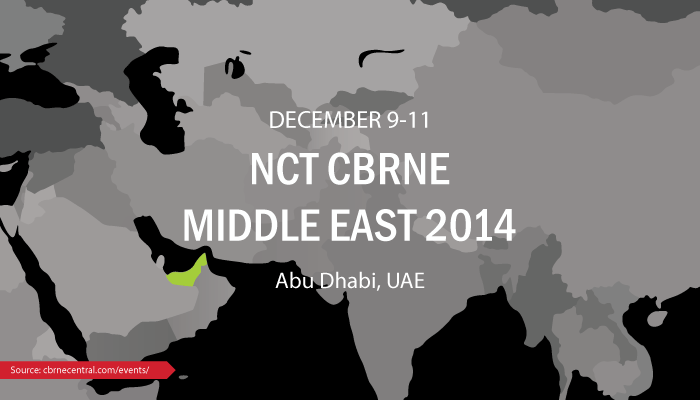 The Non-Conventional Threat: NCT CBRNe Middle East 2014 will take place 9-11 December 2014 in Abu Dhabi, United Arab Emirates.
NCT CBRNe Middle East provides one of the best opportunities to meet with and learn from regional CBRNe experts and stakeholders. Taking place in a region which has repeatedly been endangered by the proliferation and usage of nuclear and chemical weapons, the event will address these enduring threats to regional and international security, and methods for military special forces and first responders to prepare for the a variety of response and mitigation scenarios.
Highlighted topics include:
Enhancing Medical Preparedness for Terrorism
Rapid Tests for the Detection of Chemical Warfare Agents
Regional Cooperation: Successes, Gaps and the Path Forward
State of the Art Equipment and Systems for CBRNe Defense
Challenges in Guaranteeing CBRN Response in Non-Conventional Threat Environments
Chemical Warfare and Decontamination Challenges
Dealing with Mass Casualty Incidents
Challenges and Requirements for CBRN Procurement
Dealing with Mass Casualty Incidents
CBRN Reconnaissance and C4I
Crisis and Hazard Management Approaches
CBRN Medical Countermeasures
Biohazards and Bioterrorism in the Middle East
Preparedness and Response Best Practices and Lessons Learned
CBRN Vehicles and Robotics
NCT is the leading CBRNe event series in the world, supporting CBRNe responders, industry and other stakeholders in Asia, Europe, Middle East and the USA.
Please visit IB Consultancy's NCT CBRNe Middle East 2014 website for more information and to register.