NBC 2015 Nuclear Biological and Chemical Defense
May 18, 2015

-

May 21, 2015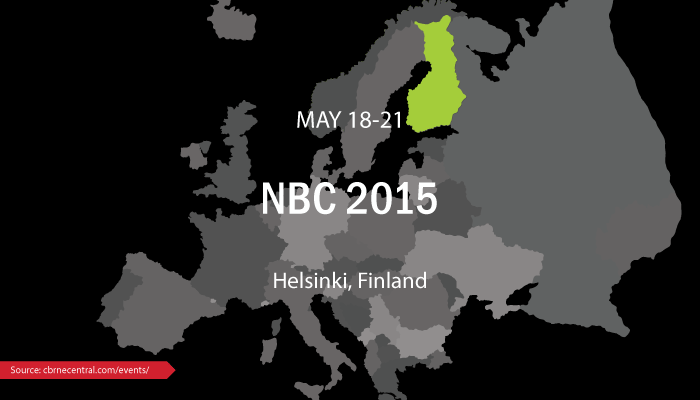 NBC 2015, the 9th Symposium on CBRNE Threats, will be held May 18-21 in Helsinki, Finland.
Highlighted presentations include:
Deployable CBRN Field Laboratory
Protection Against Chemical Terrorism in the Prague Subway
Toxic Industrial Chemicals
The Field Deployable Hydrolysis System (FDHS)
Verification of Use of Chemical Weapons in Syria
Modelling the Effects of a CBRN Defence System Using a Bayesian Belief Model
Drone Based Hyperspectral Detection of CBRNE Threats
Spectroscopic Species Identification of Biological Warfare Agents
Real-Time Bio-aerosol Detection for Building Protection Applications
Respiratory Equipment in Modern Fixed Wing Military Aircraft
The Global Health Security Agenda
U.S. CDC Perspective on Ebola Outbreak in West-Africa
Preparedness, Detection and Identification
The Finnish Perspective on Global Biothreat Preparedness
Strengthening Health and Biosecurity in Tanzania by Biodetection Capacity Building
The Finnish Biosafety and Biosecurity Network
Yersinia pestis – An Ancient and Contemporary Threat
Yersinia pseudotuberculosis – The Mother of pestis
Francisella tularensis – A Scandinavian pathogen
Current Issues in EMS Preparedness for CBRN
STUK – Radiation and Nuclear Safety Authority, CBRN Co-operation
Finnish Interagency Portal for Natural Disaster Warning
A New NATO CBRN Reachback Capability
Cooperation in the Consortium of ARGOS users
The Global Security Environment
Innovative Approaches to Early Warning
The event is organized by the Association for Protection, Rescue, Security and Safety (Föreningen för skydd, räddning och säkerhet).
Please visit the NBC 2015 website for more information and to register to attend.