DARPA Spectrum Collaboration Challenge (SC2) at Mobile World Congress Americas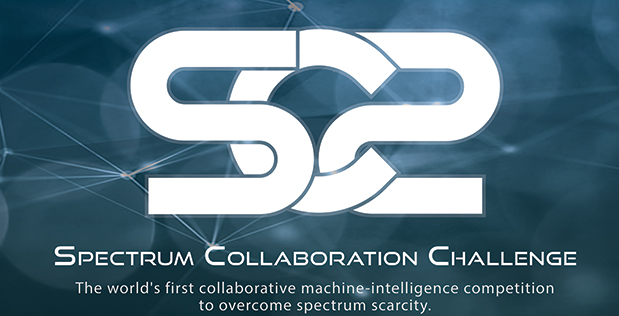 The DARPA Spectrum Collaboration Challenge (SC2) aims to ensure that the exponentially growing number of military and civilian wireless devices will have full access to the increasingly crowded electromagnetic spectrum.
Today, access to the spectrum is managed by dividing it into rigid, exclusively licensed bands. This human-driven process does not adapt to the dynamics of supply and demand, and so it cannot exploit the full potential capacity of the spectrum.
In this first-of-its-kind collaborative machine-learning competition, SC2 competitors will re-imagine new spectrum access strategies in which radio networks autonomously collaborate to dynamically determine how the radio frequency (RF) spectrum should be used moment to moment, avoiding interference and jointly exploiting opportunities. SC2 teams will develop these breakthrough capabilities by taking advantage of recent advances in artificial intelligence (AI) and machine learning, and the expanding capacities of software-defined radios.
Following preliminary competitions in late 2017 and late 2018, finalists will compete here for $3.75 million in cash prizes and, more importantly, to demonstrate that they have devised the best collaborative framework yet for making sure the spectrum will be able to accommodate the ever-growing demand to use it.
DARPA announced on 12 Sep 2019 the final 10 teams to compete in the Spectrum Collaboration Challenge Championship Event:
Andersons – an independent competitor
Dragon Radio – Drexel University
Erebus – a team of independent researchers
GatorWings – University of Florida
How Make Radio – Agitator LLC
MarmotE – Vanderbilt University
SCATTER – IDLab, an imec research group at Ghent University and University of Antwerp, and Rutgers University
Sodium-24 – an independent competitor
Sprite – Northeastern University
Zylinium – a team of independent researchers
The live SC2 Championship Event will take place on the Keynote Stage at MWC 2019 Los Angeles. Grant Imahara, well known for his work on the hit Discovery series MythBusters and Netflix series White Rabbit Project, will serve as the master of ceremonies. Imahara will provide commentary alongside DARPA's Paul Tilghman and GNU Radio Foundation president, Ben Hilburn. The event will kick off at 3:30 p.m. Pacific Time and take the audience through several rounds of competition during which teams will be eliminated based on scores and performance. The finale is free to attend and open to all MWC 2019 Los Angeles attendees as well as the general public.
Attendees who have an MWC 2019 Los Angeles three-day pass can indicate interest in attending the event at https://register.mwclosangeles.com/ by clicking "Programs" and selecting "DARPA SC2 Championship Event" under the programs list. The general public or those without a three-day pass may request a free, one-day pass to the SC2 Championship Event by emailing SC2@darpa.mil.
Please visit the DARPA SC2 event website for more information.