KPE Delivers Additional Arlan MRAP Vehicles to Kazakhstan Defense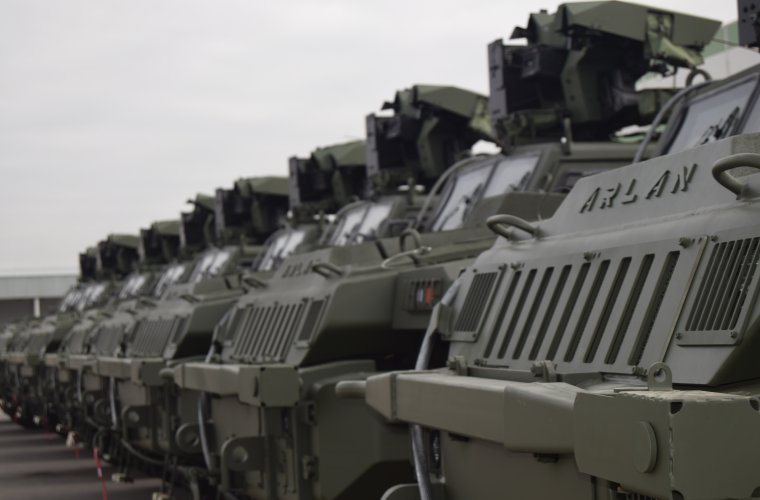 Supply of a new batch of AWV with CBRN filtration delivered to the Ministry of Defense of the Republic of Kazakhstan
Kazakhstan Paramount Engineering (KPE) has delivered another round of 'Arlan' mine-resistant ambush protected armored wheeled vehicles (MRAP AWV) to the Ministry of Defense of the Republic of Kazakhstan this week, according to a company press statement.
The Arlan MRAP AWV is equipped with a system of chemical, biological, radiological and nuclear protection (CBRN) which can address the challenges of radiation dust spread, gas and biological attacks. A filtration-ventilation system on the vehicle is able to purify the air for several hours.
The Arlan MRAP AWV is completely manufactured in Kazakhstan and the KPE Planning and Design office are able to customize vehicles design, create new units and blocks, transform the production as a whole to meet any customer specifications.
KPE has upgraded the vehicles ergonomics for the crew based on user feedback, and made improvements to the heating and air conditioning system.
In addition, a new supply of "Alan" armored vehicles was carried out to the special services of the Republic of Kazakhstan. The Alan has high ballistic protection, reliable transmission, a large capacity, maximum flotation ability for this type of machine, and can be operated in a wide temperature range and reach speeds of up to 160 km/h.
Kazakhstan Paramount Engineering LLP is the largest company in Central Asia producing advanced armored wheeled vehicles. The company manufactures armored vehicles with advanced mine protection capabilities. Present production capacity of the plant is 120 vehicles per year and can be increased if the need for higher production is required.